Let's hope that the weather improves for the summer!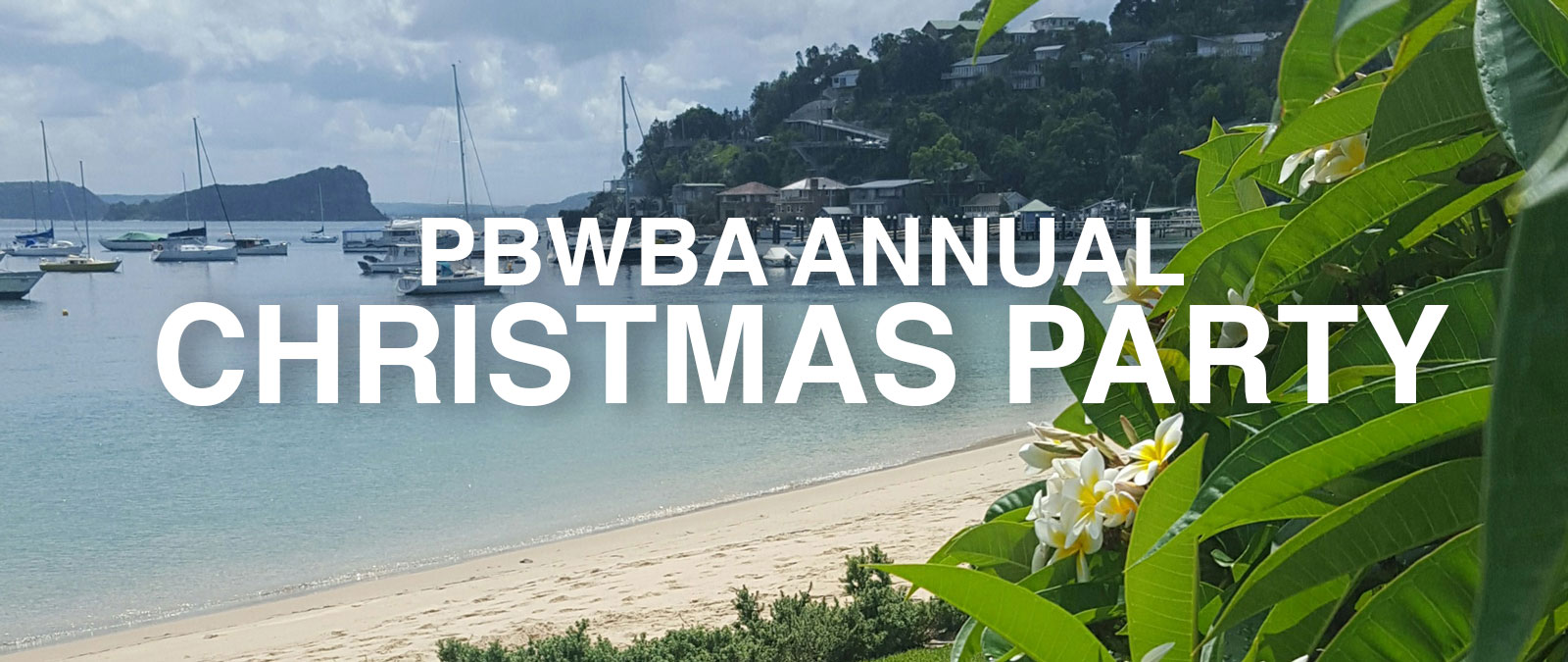 The President and Committee of The Palm Beach & Whale Beach Association invite you to join them for the Annual Christmas Party at Moby Dicks, Whale Beach.
Sunday 5th December 2021 6.30pm 9.00pm | $70 per person all inclusive | RSVP by Tuesday 30 November 2021
LOOKING FORWARD TO SEEING YOU THERE!
Financial members can purchase tickets here
Purchase Tickets
COUNCIL ELECTIONS SATURDAY 4th DECEMBER 2021
The Northern Beaches Council election is on 4th December and voting is compulsory.
According to the NSW Electoral Commission website, a COVID-19 safety plan will be in place at polling places and all residents across NSW will be expected to vote, regardless of their vaccination status.
The NSW Electoral Commissions office has implemented several protection measures to help minimise the risk of community transmission. Whilst election staff will do their best, there could be delays for voters.
Local Polling Place | Palm Beach Kindergarten
1053 Barrenjoey Road, Palm Beach NSW 2108 – 8.00am – 6.00pm
To avoid delays, apply for a postal vote below (there is increased eligibility).
Online Postal Vote Application (nsw.gov.au)
PUBLIC MEETING
HEAR FROM THE LOCAL CANDIDATES STANDING FOR COUNCIL ELECTION
Pittwater Community Alliance (PCA) would like to extend an invitation to you to attend a public meeting to hear candidates present their policies for the NSW local government election on 4th December.
There will be two meetings, one for Pittwater Ward and one for Narrabeen Ward.
Pittwater Ward
Wednesday 1 December 2021, between 7.00pm and 9.00pm, in the Main Hall, Newport Community Centre, 11-13 The Boulevard, Newport.
Narrabeen Ward
Thursday 2 December 2021, between 7.00pm and 9.00pm, in the Banksia Room at the Nelson Heather Centre, 4 Jacksons Road, Warriewood.
Please arrive early so you can be seated before the start time of 7.00pm
This event will be held in accordance with the NSW public health orders in force at the time.
At present they include:
Facemasks
Proof of vaccination against Covid
Check in via government QR code
NSW POLICE: NORTHERN BEACHES AREA COMMAND – SUPT PATRICK SHARKEY.
At the last Zoom Committee Meeting on 8th November we invited Supt Sharkey, head of Northern Beaches Area Command, to discuss with us our concerns with the ongoing issues of extreme motor vehicle and motor bike noise, dangerous driving and traffic congestion in Palm Beach and Whale Beach.
He assured us that Mona Vale police station is open and manned 24/7 and that there are no plans to close it and advised us to call Mona Vale police on 9998 0699 or Dee Why police on 9971 3399 to report any traffic or motor vehicle related issues.
Call 000 for life threatening or emergency situations.
He also advised us that police from NB Area Command are planning targeted blitzes and major operations during the Christmas and summer holiday period on the Northern Beaches and there will be increased patrols of Barrenjoey Road and McCarrs Creek Rd in particular.

PUBLIC SPACES – GOVERNOR PHILLIP PARK (GPP)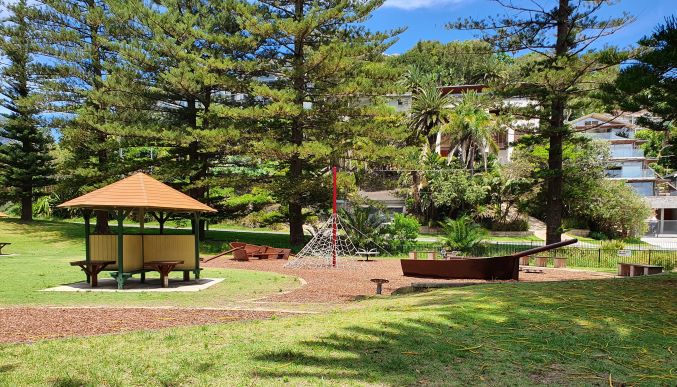 PBWBA continually advocates for maintenance and upgrades to Gov Phillip Park. Northern Beaches Council has advised that a Council SWAT (Special Works and Transformation) Team will attack a range of tasks to get GPP in top condition for Christmas. Tasks will include regrading the lower carpark, repairs & maintenance to beach access tracks, repair of road edges, cleaning stormwater pits, filling potholes, vegetation trimming, tidying gardens and mulching the playground etc. Temporary toilets will again be installed near the main playground/picnic table area. The SWAT team targeted Avalon Village earlier this month.
USING PUBLIC SPACES DURING COVID
From close to 4,000 responses across two surveys, the NSW Govt heard that public spaces are absolutely vital to the community. They found that people's love and appreciation for public spaces didn't fade when the restrictions were eased, with 45% of people responding that they spent more time in public spaces than before COVID-19.
While their most recent survey took place between lockdowns, they saw once again during the recent lockdown how valued our public spaces are by the community.
This evidence is important to the delivery of the NSW Government Priority focused on walkable access to quality public spaces and growing our tree canopy. Please read through, absorb and share the findings.
The research unearthed seven insights:
1. Even as restrictions eased, people's love for public spaces remained strong.
2. People want high-quality public space that's easy to access.
3. People were walking and cycling more than before COVID-19.
4. More people felt less safe in public spaces, especially because of crowding.
5. More people discovered online services provided by public facilities during COVID-19.
6. People were socialising more in public spaces into the second year of the pandemic.
7. People's use of local high streets has increased since the start of COVID-19.
Public Spaces during COVID-19 What we heard (nsw.gov.au)

NBC – CULTURE MAP – LIVE
The objective of the Culture Mapping Project was to create an informed picture of the cultural and creative sector on the Northern Beaches as a local community resource and an evidence base for future planning. After extensive community engagement, Council has created an interactive online map Culture Map Live that is freely accessible to users via Council's website. The Map offers functions for the community to update with editable content. This will provide a real-time and evolving picture of the Northern Beaches cultural and creative ecosystem.
The Northern Beaches is home to thriving and diverse creative communities across its beaches, bushlands, urban and industrial areas and has been a place for cultural practice for tens of thousands of years. The Culture Map Live plots the location of cultural and creative resources, businesses and events within the Northern Beaches.  It is an online resource for anyone to use.
The map is intended to grow and change over time. As new businesses emerge, new creative events are established or new public artworks are installed, Council will include them on the map. Council invites you to submit edits and add missing cultural and creative resources to the map to keep it up-to-date.
You can also read the Summary Report below. A full project report will be available in early 2022.
STRA – SHORT TERM RENTAL ACCOMMODATION
(eg AirBnB, Stayz etc)
A new set of rules around STRA came into force from 1st November 2021 and before hosts can accept bookings for this summer, they will need to:
The new regulatory framework seeks to ensure local communities continue to enjoy the economic benefits of STRA, while managing potential adverse impacts. STRA has become a fast-growing industry, and there is a need to balance the benefits of short term accommodation with the needs of neighbours and local communities. The government has been consulting with the community, councils and the short term rental industry to reach a balance that provides certainty within the planning system for STRA while also clearly outlining the responsibilities of all participants
STRA Compliance
A Code of Conduct for short-term rental accommodation industry has been established under the Fair Trading Act 1987 and the Fair Trading Regulation 2019. It is administered by the Commissioner for Fair Trading in the NSW Department of Customer Service.
The Code of Conduct sets out the legal responsibilities and compliance approach for hosts, letting agents, guests and booking platforms for STRA in NSW.


NEIGHBOURHOOD WATCH PITTWATER
In response to concerns from the community, 'Neighbourhood Watch in Pittwater' launched on Monday November 1st.
Neighbourhood Watch is a community-based crime prevention program which aims to improve the quality of life within a neighbourhood, by minimising preventable crime and promoting closer community ties.
Michael Gencher, Coordinator for Neighbourhood Watch in Pittwater said, "We have come to rely on CCTV and technology to deter and detect crime, and in doing that we have let real-life observation, awareness, and 'looking after each' other decline."
The program relies on the community, community groups and the police working together in a partnership to achieve these aims.
Traditionally, the focus of Neighbourhood Watch has been on reducing crime by directly involving the community in activities that promote safety, or assist with the detection of crime – observation and awareness.
'Neighbourhood Watch in Pittwater' is launching a modernised model to include not only community-based crime prevention, but additional programs to address a greater scope of issues and concerns affecting our community for example:
Looking after Seniors, and fostering a greater understanding of compassion between generations
Bullying
Depression
Drug and alcohol use, and early intervention
Peer pressure, and promotion of friendship skills
Social media
Social isolation and depression.
Contact Neighbourhood Watch in Pittwater for more information via email at nwpittwater@gmail.com or follow the Neighbourhood Watch in Pittwater Facebook page at:
Neighbourhood Watch

KEORIDE – PONCHO BUSES
Keoride's service on the Northern Beaches will pick you up from near home, a designated point of interest within the service area or the nearest bus stop and take you directly to the closest transport hub at Avalon, Narrabeen, Warriewood or Mona Vale.
Keoride has proven to be very popular with Palm Beach and Whale Beach residents – especially given the steep local topography and lack of footpaths and safe access to bus stops.
Four new mini-buses, which will improve accessibility of the on-demand transport service and provide an even more inclusive transport option for all residents and visitors in the Northern Beaches have commenced operating with the existing Keoride fleet .
The new vehicles offer a number of benefits:
A larger 18 seat capacity
Accessible for wheelchair and prams (and surfboards)
Kerb-kneeling function for wheelchairs and prams
Compact size to negotiate narrow streets
Improved passenger space and comfort
WOOLWORTHS AVALON
Recently there has been confusion and concern about the future of Woolworths in Avalon. Woolworths has confirmed its Avalon store will undergo a refurbishment after Easter 2022 to become a 'Neighbourhood Metro' store.
There are already more than 50 Woolworths "Metro" stores in neighbourhood areas across Australia. These Neighbourhood Metro stores are quite different from the Metro stores in CBD locations (which are called "On The Go" stores), which are more focused on a commuter, on-the-go shopping experience.
According to Woolworths, Neighbourhood Metro stores focus on a strong fresh food offer, particularly fresh Australian fruit and vegetables, artisan bakery, entertaining etc. This is backed by a range of everyday essentials for a grocery shop, tailored to meet the needs of the local community.
Apparently Woolworths engaged with the local community earlier this year to understand what the community wants from a new store. There will be more engagement again with local residents about the plans and Woolworths will be hosting a community drop-in information session later in the year.

WOOLWORTH SURVEY  for PBWBA , CABPRA and APA Members
REUSE & RECYCLE
Finding somewhere to drop off your unwanted goods just got a whole lot easier, with the launch of the Northern Beaches Reuse and Recycling map
There's a full list of clothing bins and Op Shops for your clothes, furniture and household goods, along with venues for recycling:
batteries, computers and other e-waste
toys, bikes and sports equipment (even shoes)
phones, toner and print cartridges
towels and blankets, toothbrushes and toothpaste tubes
plastic plant pots.
Most of us have things we no longer need stashed in a cupboard, a garage or under a bed. We also bin a lot of stuff that doesn't need to go to landfill, and these days there's a lot more that can be reused or at least recycled.
So check out the Reuse and Recycling Map for your nearest drop off point.

BEACHWATCH REPORT – CLEAN BEACHES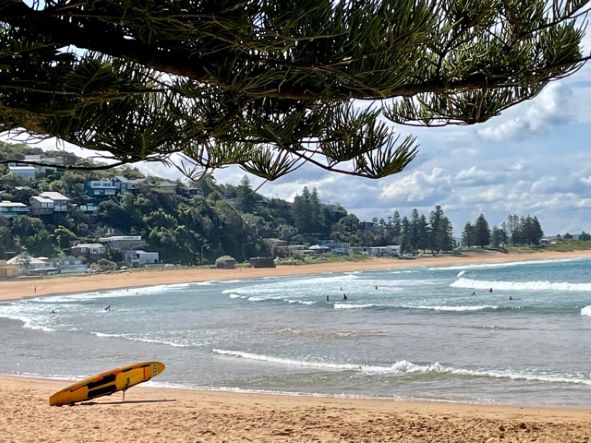 The NSW Governments Beachwatch program has released its annual findings in the 2020-21 State of the Beaches Report providing an overview of the water quality at 210 swimming locations across the NSW Coast.
It provides accurate information on the cleanliness of the water so people know where and when to swim.
Of these locations, 32 are on the Northern Beaches with 30 being graded Very Good or Good.
Click here to read the full report Beachwatch
Palm Beach & Whale Beach were both rated VERY GOOD. Station Beach on Pittwater was rated Good, while The Basin and Great Mackerel Beach were rated Very Good.

NORTHERN BEACHES COUNCIL – HAVE YOUR SAY
Community Engagement Policy and Strategy
Two documents updating and simplifying the Community Engagement Policy and Matrix of 2017. All to do with how the Council should communicate and with whom, spelling out the underlying principles and the manner in which the Council will communicate with the community and other stakeholders. The aim is to "deliver open, honest, inclusive and engaging content and information" as well as listening and considering the views of the community and stakeholders.
Submissions close: Thu 20 Jan 2022 Community Engagement Policy and Strategy


Disability Inclusion Action Plan 2022-2026.
The Council is looking for input on what the Council can do to make life on the Northern Beaches more inclusive and accessible for those with disabilities and those caring for them.
Disability Inclusion Action Plan Electric Vehicle Charging Stations new locations.
There are three new locations in the LGA, Oakes Avenue, Dee Why, Dowling Street, Freshwater and Darley Street, Forestville. These provide 1-hour parking while charging for electric cars the charge is free. They are being installed pursuant to a joint venture between the Council, AusGrid and a start-up charging provider called JOLT. The chargers, supplied by JOLT, are added to one end of an Ausgrid "kiosk" ( we might call it a substation).
So if we want a charging station at the northern end of the LGA, we need to identify an Ausgrid kiosk which ideally would be located in a shopping area. Avalon? EV Charging Stations
Naming proposal – Murradjulbi Lane Avalon
Submissions close:
8 December 2021
Laneway in Avalon from Bellevue Avenue (adj. 47) to end. Naming Proposal

COUNCIL PROJECT UPDATES
BARRENJOEY ROAD
Following complaints about the state of disrepair of parts of Barrenjoey Rd, Council has requested a copy of the delineation of responsibilities between Council, TforNSW and Connect Sydney (new maintenance contractor). Often our requests for repair or maintenance seem to be caught up in red tape and confusion as to who has responsibilty. We note that vegetation on the northern side of Surf Rd/Barrenjoey Rd intersection has been cleared to provide better vision at this dangerous spot.
We continue to press strongly for a footpath along Barrenjoey Rd from Currawong Ave to Iluka Rd (Sth) and also Surf Rd. Both roads are extremely dangerous for use by pedestrians.
LT COLONEL DOUGLAS MARKS SIGN at BLACK ROCK on the BEACHFRONT WALKWAY
The existing (former Pittwater Council) sign which acknowledges the life and tragic drowning of Lt Colonel Douglas Marks (The Boy Colonel) is faded and difficult to read. We requested the sign be renewed by Council and it will be replaced prior to Christmas.
HERMINIE'S LANDING
(on the Wharf to Gov Phillip Park Walkway).
The artwork will be installed in the first week of December.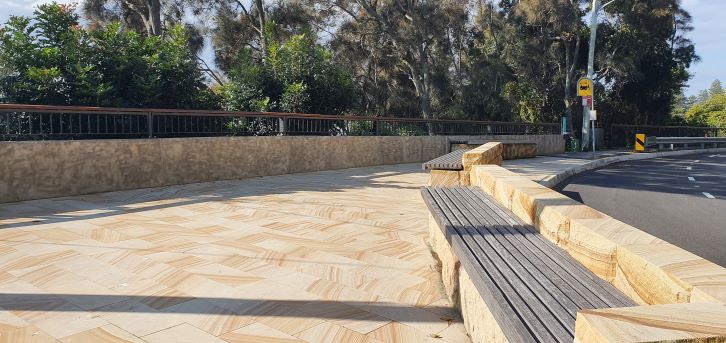 Herminie's Landing
WHALE BEACH ROAD stabilisation Stage 1 "Investigation" is now complete and Council have been able to move into the design phase for the wall remediation.
BUS STOP – OPP WHALE BEACH DELI NEIGHBOURHOOD CENTRE
The bus stop parking sign has been modified to allow for vehicle parking out of school bus times. This will provide a little more parking for the Community when the school bus does not operate.
PALM BEACH OCEAN POOL
To provide safer access new bitumen is to be laid on the pathway to the pool after Christmas.
AVALON CREATIVE SPACE – A NEW NAME!
(formerly Avalon Workshop)
The Avalon Creative Space is situated in the Avalon Golf Course Clubhouse.
It includes a creative studio and two multi-use workshops which aim to make creativity more accessible to the community.
PROPOSED OFF LEASH DOG AREAS – North Palm Beach & South Mona Vale
Project update: Nov 2021
Council has consolidated all the consultation feedback received from our community into the possibility of establishing dog off-leash areas at Palm Beach (north) and Mona Vale Beach (south). All relevant issues raised during the consultation will be considered during the next stages, noting that the feedback in general was overwhelmingly supportive.
In line with the Council resolution, environmental assessments are being undertaken in accordance with the Environmental Planning and Assessment Act 1979 and other relevant legislation. To assist with this, Council has engaged specialist environmental consultants and will also be working with relevant NSW Government agencies where required.
A draft Review of Environmental Factors (REF) is expected to be completed in February 2022. Further updates will be provided as this work progresses, prior to both the environmental assessments and outcomes of the consultation being reported back to Council.
Proposed dog off-leash areas | Your Say Northern Beaches (nsw.gov.au)
FOOTPATH CAREEL HEAD RD TO CURRAWONG AVE
Project update: Nov 2021
Council is proposing to build a new 1.5 metre wide concrete footpath along the eastern side of Barrenjoey Road, North Avalon between Careel Head Road and Currawong Avenue.
This new footpath forms part of the implementation of Council's 2019 Northern Beaches Walking Plan.
It will provide safe pedestrian connection to local shops, Careel Bay sporting facilities, Hitchcock Park and public transport.
Partnership and funding
The proposed design also includes new kerb and gutter along with proposed improvements to drainage along Barrenjoey Road.
To help deliver this project, Council are seeking to collaborate with and source funding from Transport for NSW.
Barrenjoey Road, North Avalon | New Footpath Program | Your Say Northern Beaches (nsw.gov.au)

CHRISTMAS TREES DELIVERED TO PALM BEACH & WHALE BEACH!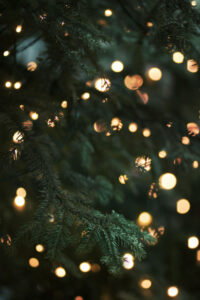 ROTARY UPPER NORTHERN BEACHES have been selling live Christmas trees in Terrey Hills for over 20 years in partnership with 1st Terrey Hills Scout Group. They have been using the same tree supplier for several years and people often say their trees are the best value trees on the Northern Beaches.
In 2021, in addition to the one-day in-person sale, they are offering sales online with delivery to your home.
Advance online sales November 1st – December 5th
or until sold out.
Order yours here!
This offer is limited to selected upper Northern Beaches suburbs in postcodes 2101 to 2108
If you'd prefer to buy your tree in person and take it home with you, they'll be selling trees on Saturday 11th December at the intersection of Mona Vale Road and Aumuna Road/Kamber Road, Terrey Hills from 8:00AM until sold out.
Enquiries: christmastrees@rotaryuppernorthernbeaches.org

AVALON LIBRARY – LOOKING FOR VOLUNTEERS
Avalon Library is always on the lookout for enthusiastic people to join their Volunteer Team.
Do you have a spare 1/2 day once a week or fortnight?
Are you competent on the computer?
Do you have good people skills and like working in a team?
If you are interested in becoming a volunteer:
contact Jane Park Avalon Community Library Coordinator
or email: avalonlibrary@ozemail.com.au
or ask at the desk
Volunteer appointments are decided by the Avalon Community Library Association
Avalon Library
SAVE THE DATE!!!
AVALON CAR BOOT SALE
Sunday 19th December 2021 8am to 2pm
The focus of this car boot sale is for residents to sell unwanted household goods such as clothes, toys, household items, sporting equipment etc.
The goods may be sold from the boot of a vehicle, from a trailer or from a table within the allocated stallholder site. This event is not for the purpose of business/commercial traders and items being sold must be second hand.
There will also be a Northern Beaches Council stall packed with information and educational material on all things waste related. Avalon Car boot sale

PICNIC IN THE PARK
– Dunbar Park Avalon
Saturday 12th March 2022
Picnic in the Park returns! Come together on a picnic rug for a children's event like no other.
Lah Lah's Big Live Band
The Nannas and The Poppas
Music and dancing
Entertainment and activities
More information to come  Ticketing: $5 per person (including children)
AVALON BEACH CENTENARY CELEBRATIONS
Celebrating the Centenary of the naming of the suburb of Avalon Beach.
Dunbar Park 19th March 2022 More information to come.
If you have any concerns or would like to discuss any matters please contact us: https://pbwba.org.au or PO Box 2, Palm Beach 2108
Stay safe, stay well.
Prof. Richard West AM
President
0407 942 941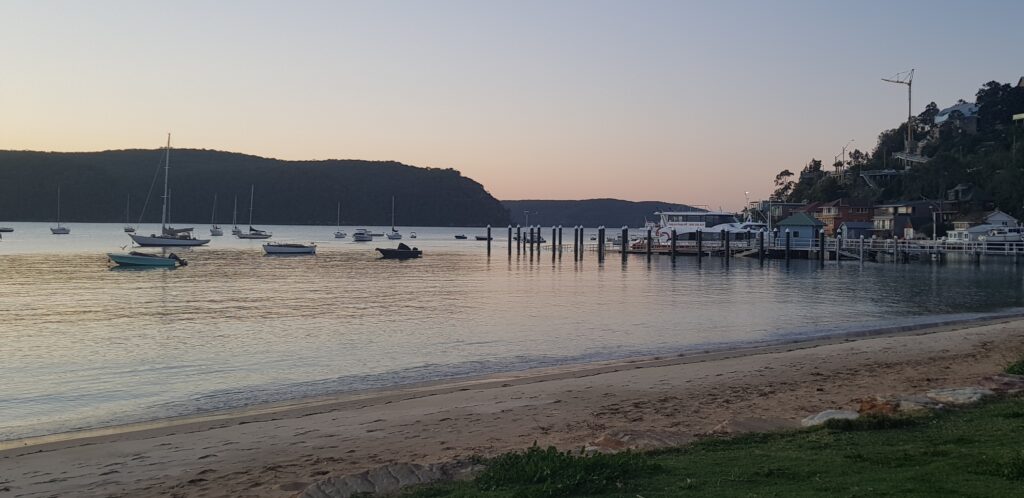 Sunset Palm Beach Wharf & Snapperman Beach