AVALON YOUTH HUB & BURDEKIN ASSOCIATION COFFEE MORNING
Justene Gordon, winner of the Premiers Award Pittwater 2018 and the CEO of the Burdekin Association and the Avalon Youth Hub, was the guest speaker at our July informal monthly coffee morning held at Moby Dicks Whale Beach. 35 members and friends attended. Justene spoke with passion, care and concern for the youth of today, particularly the difficulties many face including family breakdown, drugs and alcohol, bullying, the effects of social media, poor communications skills, anxiety, suicide and grief. She then outlined the services being provided by The Burdekin Association and The Avalon Youth Hub.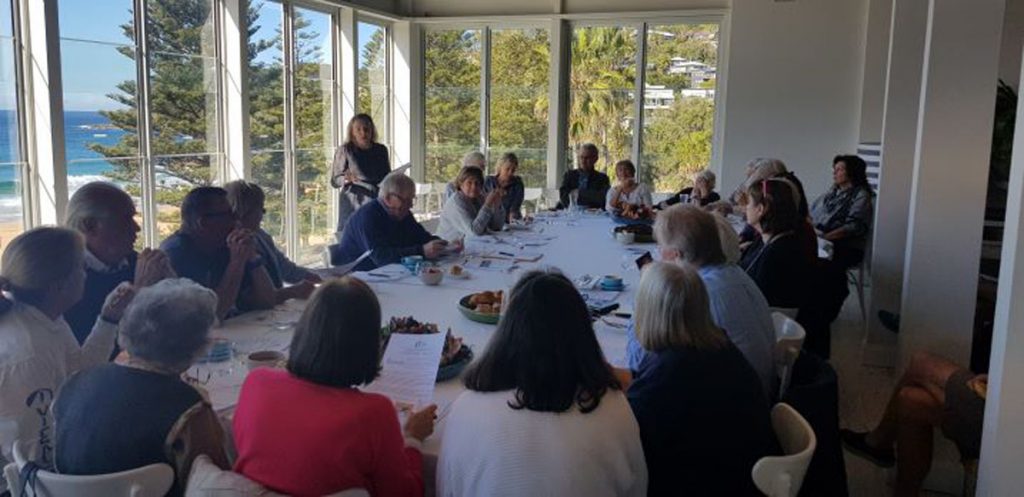 The Burdekin Association is a community based, not for profit organisation in the Northern Sydney area which offers a range of support and accommodation services to young people between the ages of 12 and 24 years and their families. The Avalon Youth Hub (AYH) was launched in 2018, a project inspired by Barrenjoey High School Principal Ian Bowsher. This project is led by The Burdekin Association and has ensured that the Pittwater Community has access to professional support, a place to connect with services as well as engagement with and early intervention within the Community. Northern Beaches Council provided funding to ensure the concept had the funding and support required to open. The opening of the AYH addresses the long standing problem of no permanently based youth services in Pittwater.
The AYH is open on Mondays for counselling sessions, phone calls, referrals, drop-ins and general inquiries. Outreach day is Wednesday. Over 150 young people drop in each Wednesday for a chat or a group/workshop session. Workshop topics have included grief, sexual health and "Piece of Mind".
The Burdekin Association also focusses on 'Out of Home Care' to accommodate and support children/youth 12-17 years old who would otherwise be in custody due to homelessness and 'Youth Housing' to accommodate and support young people 17-24 who are homeless.

How can we help and support The Avalon Youth Hub and The Burdekin Association?
The Burdekin Association relies totally on funding from organisations such as Family and Community Services, The Dept of Health, Northern Beaches Council, philanthropy and community support.
Motivated by her presentation it was suggested to Justene that a Friends of Avalon Youth Hub group be formed which will give concerned members a way to become involved and support initiatives to help the vulnerable young people in our Community. Watch this space for further news about this initiative!
Burdekin Association contact details
ph: 02 8976 1777 | www.burdekin.org.au | burdekin.admin@burdekin.org.au
Avalon Youth Hub is a free service. You can just drop in!
Drop-Ins: Mon 10-5 pm / Wed & Fri 2-5 pm
Appointments: Mon 10-5 pm / Fri 2-5 pm
Phone: Call 0487 936 875
Avalon Youth Hub
59 Old Barrenjoey Road, Avalon Beach in the Avalon Recreation Centre

2019/20 NORTHERN BEACHES COUNCIL CAPITAL WORKS PROJECTS AND PITTWATER IMPROVEMENT PROGRAM
Local projects in Palm Beach and Whale Beach areas scheduled for 2019/20 include:
Whale Beach SLSC- converting boatshed roller doors to swipe access and motorised controls
Palm Beach Pavilion ‑ Improvements and rectification works
Barrenjoey Road ‑ new footpath (eastern side) from 718 to Currawong Avenue
Whale Beach Road ‑ new footpath from Norma Road to Florida Road
Whale Beach Road ‑ footpath renewal from Malo Road to Surf Road
Waratah Road ‑ footpath renewal from Beach Road to end
Beauty Drive ‑ road resurfacing from Whale Beach Road to end
Bynya Road ‑ road resurfacing from Norma Road to Surf Road
Norma Road ‑ road resurfacing from Pacific Road to Bynya Road
AVALON PLACE PLAN
The Council held a well attended "Pop-up Plaza" on Saturday 27 July in Old Barrenjoey Road between Avalon Parade and the pedestrian crossing outside the Avalon Recreation Centre. This was part of the community consultation on the Avalon Place Plan which has five main aims: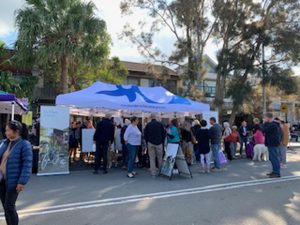 to create places designed for people
to attract the right uses to the right places
to provide a focal point for employment and deliver high quality urban design outcomes
to improve connectivity in and around the centre, especially for pedestrians
to recognise the importance of streets as community spaces and destinations
The particular emphasis of the Pop-up Plaza was to get community feedback on making changes to the intersection of Avalon Parade and Old Barrenjoey Road to improve pedestrian safety, reduce driver confusion and introduce dedicated cycle lanes throughout the town centre. The Council has produced three design options which are available on their website. The Council will now be assessing the comments made at the event but the community can still provide feedback on the three options though they should do so quickly. Suggestions on other aspects of the Avalon Place Plan will go out for community consultation over the next weeks.
HOSPITAL & AMBULANCE SERVICES
The NSW Parliament (Upper House) is holding an inquiry into the Northern Beaches Hospital following the closure of acute services at Mona Vale Hospital and ongoing reports of medical and staff problems at the new Northern Beaches Hospital at Frenchs Forest. Submissions have been called for.
PBWBA believes the committee carrying out this inquiry needs to be made aware of the huge local concern over the loss of acute services at Mona Vale Hospital in addition to the ongoing problems at Northern Beaches Hospital.
Accordingly, our President, Adjunct Associate Professor Richard West AM VMO Surgeon at Royal Prince Alfred Hospital Camperdown, has submitted a detailed submission which focusses on
1. Clinical Services: The lack of appropriate medical and surgical services at the Public/Private Level 5 Northern Beaches Hospital (NBH) for all Public and Private patients.
2. Mona Vale Hospital: The downgrading of medical services at the Mona Vale Hospital Site.
3. Access to NBH: The distance to be travelled, and therefore the time to travel from Pittwater to the NBH is excessive, either by public transport or private car. The distance and time are markedly increased in bad weather when The Wakehurst Parkway is closed.
4. Ambulance services: Lack of Ambulance services and poor response times in Pittwater.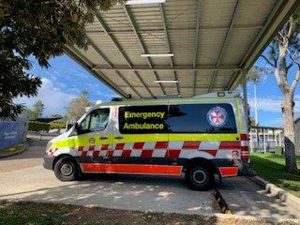 A report by the Health Education & Training Institute (an organisation which accredits hospitals to train and supervise junior doctors) into the Northern Beaches Hospital in December 2018 has become available and it gives a disturbing account of inadequate planning and staffing with insufficient policies to ensure safe practice. A follow-up review in January showed a significant improvement although staffing was still a problem and not all concerns had been addressed. Currently the hospital has provisional accreditation although it is hoping to receive full accreditation in September.
Ambulance figures published by the Bureau of Health show a considerable increase in the number of calls for assistance with a 22.7% increase in Pittwater in the first quarter of 2019 compared with the similar quarter in 2018. In the same period Warringah saw a 15.8% rise and Manly a 5.8% increase. Median response times were 11.8 min. for Pittwater, 11.5 min. for Warringah and 12 min. for Manly. NSW Ambulance responded to 300,000 calls overall in this quarter with the median response time for life-threatening cases remaining at 7 and a half minutes. To access the interactive ambulance performance tool go to: http:/bhi.nsw.gov.au/search ambulance performance.

PITTWATER GAINS IN STATE GOVERNMENT BUDGET
The State Budget contains further funding for Pittwater infrastructure. It includes $40m for upgrading Mona Vale Road East, $18.4m. for Northern Beaches health service improvements (includes upgrades at Mona Vale Hospital), a permanent ambulance station there, an additional $10m. to enhance the palliative care centre now under construction and $51m. to improve road and traffic flow along the B Line corridor.

TOURISM ‑ DESTINATION MANAGEMENT PLAN: "ALTOGETHER EXTRAORDINARY"
From the Council Website: Of the 4 activities listed as tourist must-dos when visiting the Northern Beaches it is interesting to note that 2 are in Palm Beach.
Pittwater's waterways​​​​​
"Kayak or stand up paddleboard in the tranquil waters of Sandy Point or Station Beach. Jump on the ferry and escape city life to Currawong, Great Mackerel Beach or The Basin."
Barrenjoey Lighthouse
"If Instagram has shown us anything, it's that people love taking photos at the top of Barrenjoey Lighthouse, and it's no mystery why. Wow your crowd with the panoramic views of Pittwater, Broken Bay and Palm Beach."
Tourism in Australia contributes significantly to our economy. In 2016/17, it was $54.7 billion which was 3.2% of the national GDP, 27% from international visitors and 73% from domestic tourism. Most international visitors were from New Zealand, followed closely by China, then the US, the UK, Japan and Singapore.
In the Northern Beaches area in 2017/18 there were 2,464,956 international visitor nights (43.9%), 1,522,023 domestic visitor nights (27.1%) with domestic daytrips amounting to 1,631,972 (29%). Over the last five years, the reasons given for travel by international visitors were: Holiday (36%); Visiting friends and relatives (35.8%); Education (5.7%); Business (5.6%); Employment (2.8%), the remainder being for other reasons. The majority of visitors to Palm Beach/Whale Beach (50%) arrive by car, while 40% arrive by bus and 10% by ferry.
Because of the importance of this sector of the economy the Northern Beaches Council has drafted a Destination Management Plan (DMP) and asked for comments on it. Given the significant impact tourism has on Palm Beach PBWBA have made a submission. The DMP will align with the Council's Community Strategic Plan 2018-2028. It will provide guidance to ensure that tourism continues to support the local economy and local amenity while considering and protecting the unique natural environment and cultural attributes of the Northern Beaches. The final Plan will highlight the Visiting Friends and Relatives market (VFR) which is a growing tourism sector here. Council recognises the ongoing and significant economic and social benefits tourism contributes to the area, including its positive contribution to local employment and is analysing feedback on the key directions paper, using the information as part of DMP drafting. The draft DMP is scheduled to go to the August Council meeting for approval to exhibit. Read to submission here | PBWBA SUBMISSION

ART FOR COASTAL WALKWAY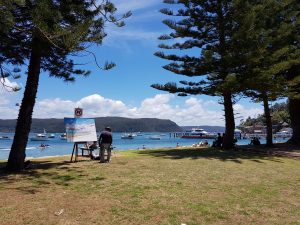 Over the next three years up to 30 works of art will be placed along the 36 kilometre Northern Beaches Coastal Walk. It is hoped that the Walk will be completed by 2020 and it will include 8km of new footpaths, boardwalks and tracks which will link Palm Beach to Manly. The art will reflect the natural, cultural and heritage significance of the area and will cost approximately $2 m. It will be installed in two stages and, in the Palm Beach/Whale Beach area, the first stage will include a site at Pittwater Park and in the second stage a site on Observation Point. Whale Beach Reserve may also be included if funds permit. $200,000 of the fund will be reserved for Indigenous art works and signage.
LOCKERS AT PALM BEACH FERRY WHARF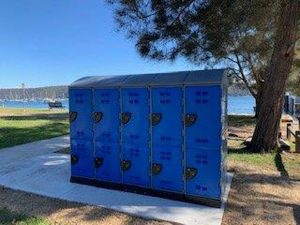 As part of the Pittwater Park Parking Demand Strategies the Council has installed lockers at Palm Beach Ferry Wharf as a service to those catching ferries, particularly the off-shore residents, so they are able to store shopping and goods while parking their car, possibly a distance away. However, in the opinion of many in the Community, they do not enhance Pittwater Park as they have been sited in the most prominent position. The President and some residents have since met with Council staff and it has been agreed that the lockers will be moved near the toilet block where they will be less obvious. The concrete pad will be used to house the defibrillator which the Association has donated to mark its Centenary last year.
STATION BEACH
Station Beach is now much more accessible. Splendid new steps have been installed on the southern side of The Boathouse and the seating area at the southern end of the beach (at Beach Road cul-de-sac) has been repaired. Try them out when you next walk along the beach.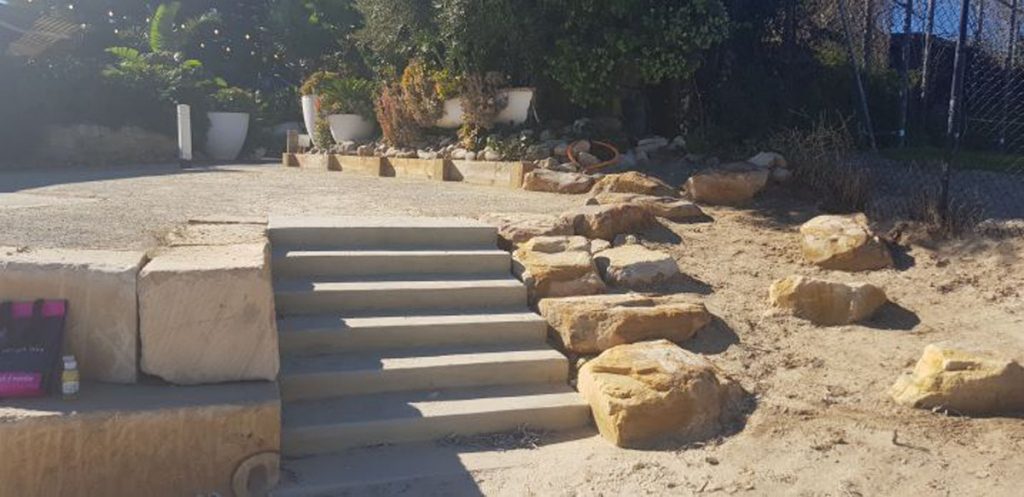 LANDSCAPING AT PALM BEACH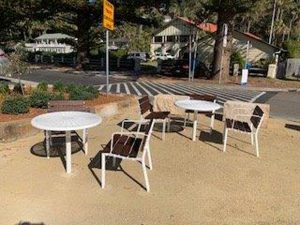 The landscaping at Palm Beach now includes a sitting and eating area which adds to the attractive, family friendly atmosphere.
It was installed just in time for the school holidays and is being well used.
Sitting area, part of the new landscaping at Palm Beach
DATES FOR YOUR DIARY
August Committee Meeting Monday 12 August 7 pm at Pacific Club
August Coffee Morning Friday 30 August 10.30 am at Pacific Club


SAVE THE DATE
PBWBA Christmas Cocktail Party Sunday December 8th, 6pm Moby Dicks Whale Beach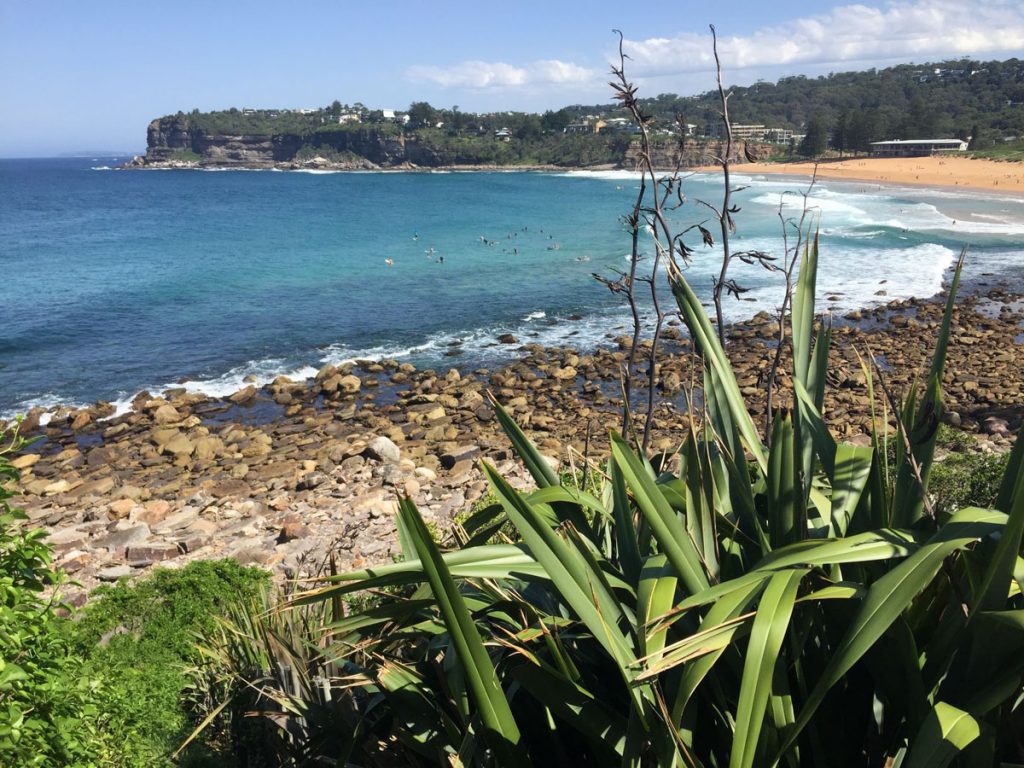 Beautiful Whale Beach