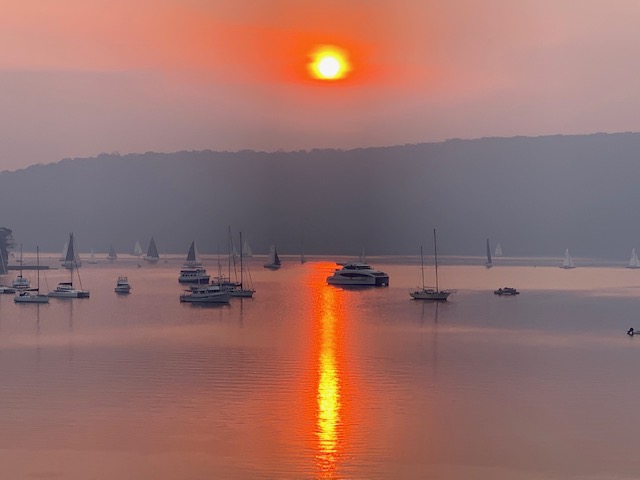 Fires on the mid-North Coast bring a red sunset to Pittwater
PALM BEACHFRONT LANDSCAPING PLANS
The plan for the landscaping and footpath from the Palm Beach Surf Club Pavilion to the Golf Club, past Blackrock (to connect with the Walkway) has been drafted by the Council and work is scheduled to begin next year. Community consultation is planned prior to Christmas. In addition, we have requested that they do some remedial work on the western side of Ocean Road. The path will also be extended beyond the Surf Club towards Kiddies'Corner next year.

GARBAGE COLLECTION
As a result of our request to Council, URM have advised they will be trialling new schedules for their garbage trucks on Mondays to avoid peak hours on Barrenjoey Road. They will be monitoring this but please let us know if you become aware of any particular issues.
SNAP, SEND, SOLVE
Snap Send Solve is the easy and efficient way to notify local councils, utilities or other authorities of issues that need addressing in your community. It eliminates the complexity of knowing where and how to report incidents on the spot by enabling users to capture and send photos of issues that need attention. You will need to download the app to your smartphone (just Google Snap Send Solve and it will come up). Examples of issues that can be solved are listed as abandoned shopping trolleys, pot holes, animals, noise, Telstra pits and telecommunications equipment and many more. If you have difficulty you can contact them on: contact@snapsendsolve.com. Please let us know your experiences if you start using the app.

SMART PARKING TECHNOLOGY
In the Council's 'Move – Northern Beaches Transport Strategy' they identify the objective of managing car parking in an equitable way which supports local centres and boosts sustainable public transport. Smart Parking uses technology to deliver real-time information to drivers on availability of spaces and to the Council with data on parking demand, turnover, length of stay and availability. They will be testing a range of the latest technology from a variety of suppliers over 12 months to determine the best outcome. Pittwater Park (south) is one of the five locations for trial.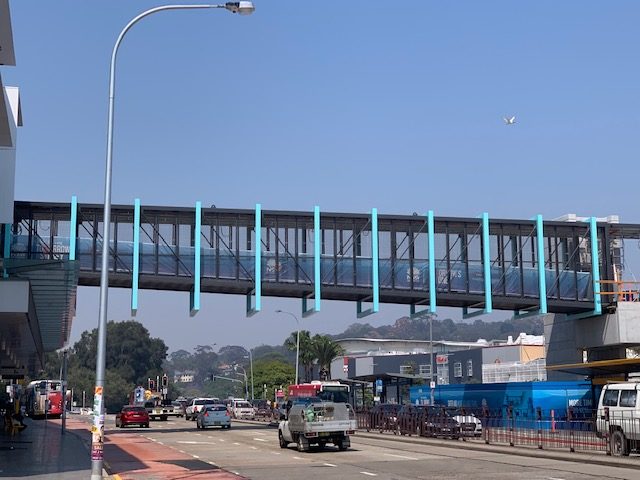 New bridge over Pittwater Road at Brookvale
TRANSPORT
Northern Beaches buses will be privatised. Transport for NSW will retain ownership of the depots and buses and will set the routes and the fares. The staffing will become the responsibility of the private operator. The privatisation process is expected to take 18 months to 2 years. The Northern Beaches region is one of the last areas in Sydney to be privatised. There will be a new hourly bus service (155) via Wakehurst Parkway to the Northern Beaches Hospital. The route will be Bayview, Mona Vale, Mona Vale Hospital and Narrabeen shops to the hospital. It is being operated by Easylink. Keoride can be used to connect with it.
Keoride trial has been extended to 30 June 2020. Opal cards can be used for payment. The B-Line is very successful. More people are travelling on public transport including people who have hitherto only used their cars. Journeys are taking less time and road projects associated with the B-Line route are continuing. The latest is the introduction of a new pedestrian bridge at Brookvale to improve traffic flow along Pittwater Road and provide an easier link from the B-Line stop to Warringah Mall.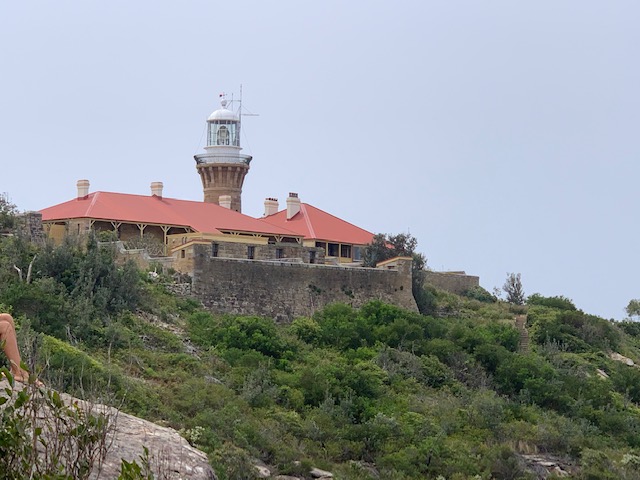 Palm Beach Lighthouse and the Keepers' Cottages on the Headland
KU-RING-GAI CHASE NATIONAL PARK PROPOSED PLAN OF MANAGEMENT
The Association has made a submission and Committee Members visited the Lighthouse and surrounding cottages with the National Parks and Wildlife Service to get an idea of their condition and discuss their future. It is our firm opinion that they are an important part of our heritage and should be preserved and protected and not modernised to provide accommodation. During the last month alone approximately 50,000 people climbed to the Lighthouse which emphasises the need to protect the Headland and NPWS is very much aware of this. Funding has been secured to provide toilet facilities near the Lighthouse Keeper's Cottage. They will be as unobtrusive as possible, probably outside the walls surrounding the building and cut into the hillside. Temporary toilets (not PortaLoos) will be installed for the holiday period.

TOWARDS 2040 – LOCAL STRATEGIC PLAN STATEMENT (LSPS)
The NSW Government has determined that each Council must produce a document setting out its vision for the future which will guide growth and development for the next 20 years. As a result the Council has produced a lengthy draft statement setting out its priorities for sustainably managing the natural environment, infrastructure, housing, transport and employment. This can be accessed on https://yoursay.northernbeaches.nsw.gov.au/towards-2040. PBWBA will be making a submission which will be accessible on our website.
Submissions need to be lodged by 10 November 2019. Please Have Your Say on the website. The LSPS will be followed by a new Local Environmental Plan for the whole Council area which will replace the current four LEPs and four Development Control Plans for the former Council areas.

SHORT TERM RENTAL ACCOMMODATION
At a recent meeting with Rob Stokes we discussed our submission on the new regulations governing Short Term Rental Accommodation proposed by the NSW Government. There has been a considerable response. 8,000 submissions have been made. Our own submission, which is on our website, recommended that local Councils be the registering authority rather than an industry body (which does not exist at this point). There will be a code of conduct for landlords, letting agents and tenants and it is proposed that breaches of the code be reported to the Commissioner for Fair Trading who can declare a "strike" against a property for serious breaches. Two strikes within two years can result in a ban which would last five years. This would be applied to so-called "party houses". It is proposed that properties can only be let on a short-term basis (less than 21 days) for 180 days in any 12 month period and there is a limit of 12 persons per property and 2 per room. There will be a further period of consultation when the Department produces the draft regulations.
Under the old Pittwater Council map of fire-prone areas, many properties in the streets around the McKay Reserve plus parts of Barrenjoey Road and Bynya Road were classed as fire-prone and would have required development approval before they could be let on a short-term basis. However, the Northern Beaches Council has released a new map of fire-prone areas for approval by the Fire Commissioners, restricting the fire-prone area to Mackay Reserve itself.
The local member, the Council and other authorities are well aware of the serious issues which have arisen when particular houses are being let for huge parties/events weekend after weekend in quiet residential zones areas – particularly in Iluka Road, Sunrise Road and Bynya Road. This is causing huge distress to residents.

HAVE YOUR SAY
Community Safety Plan
The Mayor, Michael Regan, has asked residents to complete an on-line community safety survey which will suggest strategies to improve safety in our area. This is your chance to register any situations where you have felt unsafe for example, anti-social behaviour at night involving motor vehicles or large groups of aggressive people or dark, poorly lit areas. Please register any incidents which have made you fearful so that there can be a realistic assessment of the extent of the problem. It is a matter of concern that there is no permanent police presence in Avalon. Submissions by 3 November to yoursay.northernbeaches.nsw.gov.au
Protect. Create. Live
Comment on the Northern Beaches Environment and Climate Change Strategy 2040 This is an interactive survey in five sections. Submission by 10 November to yoursay.northernbeaches.nsw.gov.au


View from Palm Beach Lighthouse

DATES FOR YOUR DIARY
Our Christmas Cocktail Party will be held on Sunday 8 December 2019 at 6.30 pm at Moby Dicks, Whale Beach (Please remember to renew your membership if necessary as this is for financial members only) Get your tickets online here.
Next Committee Meeting Monday 11 November 7 pm at The Pacific Club
Final Coffee Morning for the year Wednesday 27 November 10.30 am at The Pacific Club
Avalon Preservation Association AGM including a talk by Assoc. Professor Peter Davies on "Avalon's Trees: Urban Forest, Loss and Opportunities" 7pm Monday 25 November at Avalon Bowling Club