2019 was a very productive year for the Association aided by a co-operative relationship with Northern Beaches Council and the appointment of a Community Liaison Co-Ordinator, Trish Chaney, who has greatly improved communication making the relationship much more productive.
We thank her for her considerable efforts which benefit the residents of the whole of the Northern Beaches.
We began this year with a very successful Coffee Morning on 29 January which was attended by the Mayor, Michael Reagan, and approximately 50 members. We appreciate the time he spent responding to the many matters raised by our members.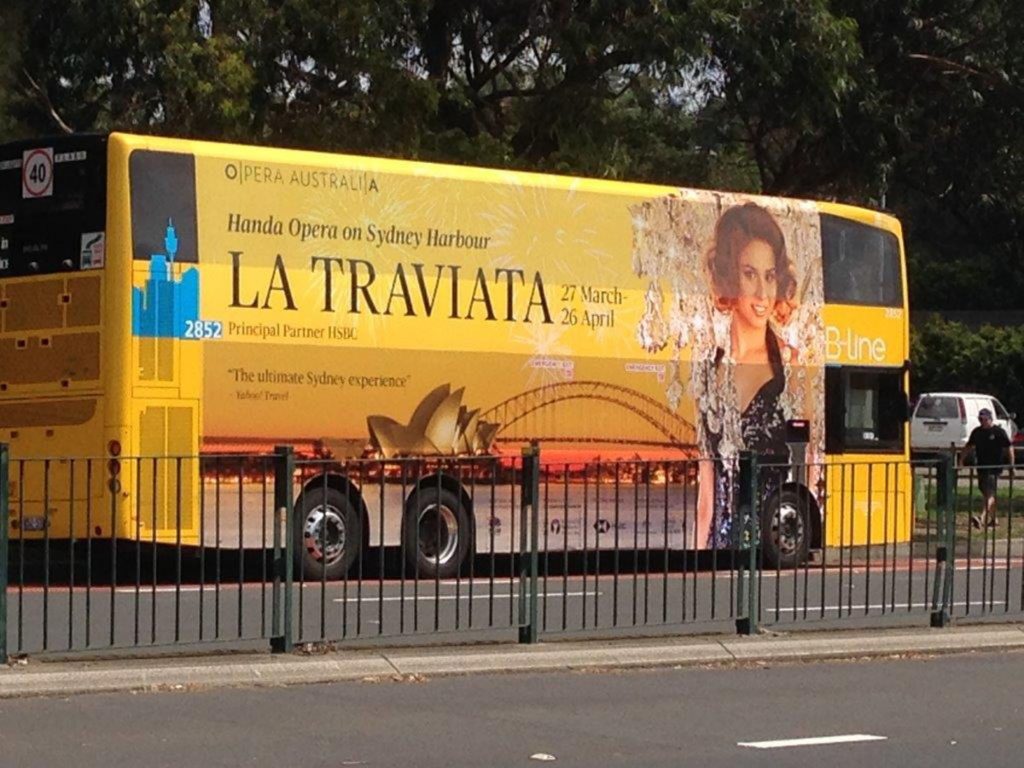 TRANSPORT AND PARKING
Keoride will have a new hub in Avalon so there will be a choice of being taken to Avalon to connect with buses there or go to Mona Vale and connect with the B Line to the City. Because of the increasing demand for the service, pickups in future will be from the nearest cross-street (not more than 150 metres from your home address) unless this is difficult because of age or mobility. Please log your requirements in when you book. The overflow car park at Careel Bay was used during the summer holidays when parking near the Ferry Wharf or Governor Phillip Park was much in demand and the Mayor agreed to look at the possibility of operating a "green" shuttle bus from Careel Bay to Palm Beach, Governor Phillip Park and Whale Beach in a "loop". It could have other uses during the year such as the Manly Jazz Festival and Food & Wine events and would demonstrate the Council's 'green' credentials.
There are severe parking problems in the area of Palm Beach/Pacific/Barrenjoey Roads especially at holiday times. Surf Road and Bynya Road have been identified by residents as frequently difficult to navigate due to parked vehicles and the junction of Surf and Barrenjoey Roads is dangerous for pedestrians walking to or from the bus stop. A meeting will be held with Phil Devon, Manager Transport Network, to discuss possible improvements. 'Smart parking' technology will be trialled in Pittwater Park South this year. Other systems will be compared in four different locations. Pressure is building to commence work on Wakehurst Parkway to widen and floodproof this critical road particularly considering its role in transporting patients to the Northern Beaches Hospital.
ENCROACHMENTS
Northern Beaches Council are formulating a policy to deal with the many encroachments on public land which are obvious throughout the Council area. This is an important issue which needs addressing and we will be responding to the draft policy when it is available for public consultation.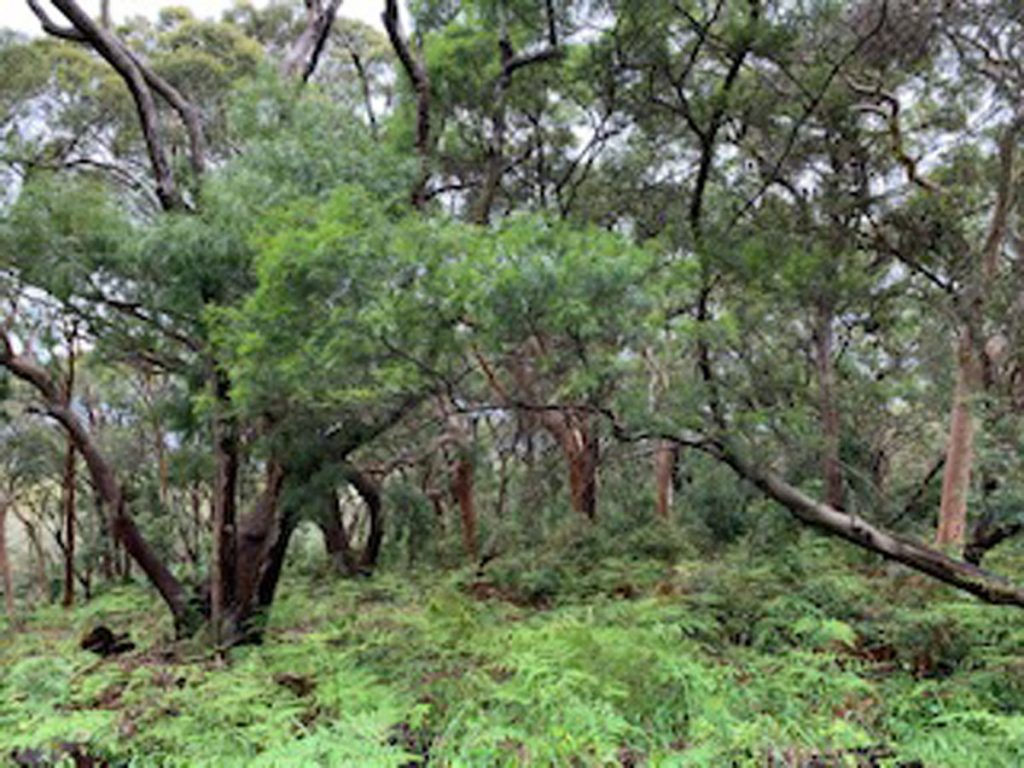 MCKAY RESERVE
The fire hazard posed by the considerable amount of flammable material in McKay Reserve was discussed with the Mayor. He confirmed that the Council worked with the Rural Fire Service to implement any measures they felt were necessary. Substantial clearing of the area has recently been done. During the recent catastrophic fire conditions the Council closed the reserve and they will continue to monitor the situation. More information is available on the Community Fire Unit Program "Creating Bushfire Resilient Communities"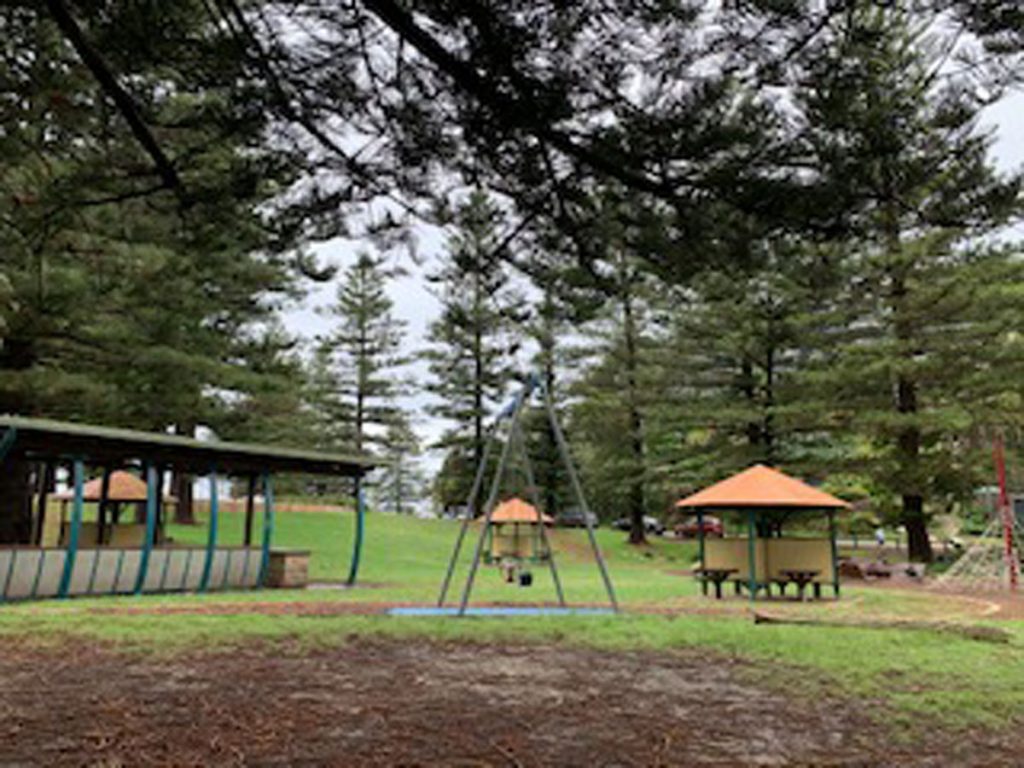 GOVERNOR PHILLIP PARK
In April consultation for a new Plan of Management (PoM) for Governor Phillip Park will begin so be prepared to log any issues you would like to raise. On the Headland, the temporary toilets at the Lighthouse have been welcomed to be followed by permanent ones which will be installed into the hillside outside the walls of the Keeper's Cottage.
FOOTPATHS AND PUBLIC RIGHTS OF WAY
There are many footpaths and public rights of way in Palm Beach and Whale Beach that are not clearly marked or maintained and are in danger of disappearing. We have obtained a list from CABPRA of approx 34 public rights of way in Palm Beach and Whale Beach and are currently investigating them with the objective of approaching the Council where we feel urgent work is required and where signposts need to be installed.
Please let us know if you are aware of any that need attention or have "disappeared" (photos are very helpful).
LANDSCAPING
The landscaping at Palm Beach has proved popular and the footpath will possibly be extended to Wiltshire Park although following the recent violent storms the engineers will be examining the area before making a decision on the most practical proposal. Community consultation will start soon for the section from Blackrock to Governor Phillip Park.
TREE CANOPY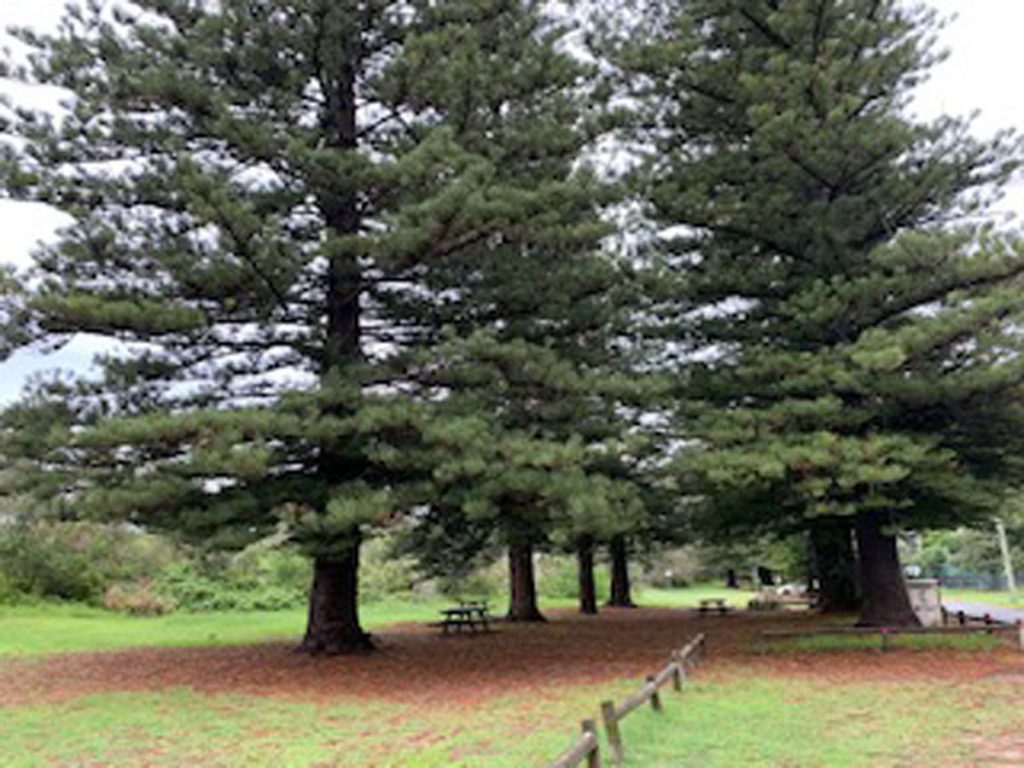 Concern has been expressed on the decrease in the tree canopy on the Northern Beaches following a change in the law allowing householders to cut down trees located close to houses and which pose a possible fire risk. Current DAs require the planting of additional trees and the Council are mapping the tree canopy and filling in obvious gaps where possible. Notwithstanding this, members are asked to inform the Council of any dangerous trees so that they can receive urgent attention.
COUNCIL HELPLINE
The Council has a 24 hr. 7 day a week customer service helpline so if you have an emergency please call: 1300 434 434. A new app is being developed (similar to Snap Send Solve) to enable quick and easy logging of community problems which are the responsibility of Council.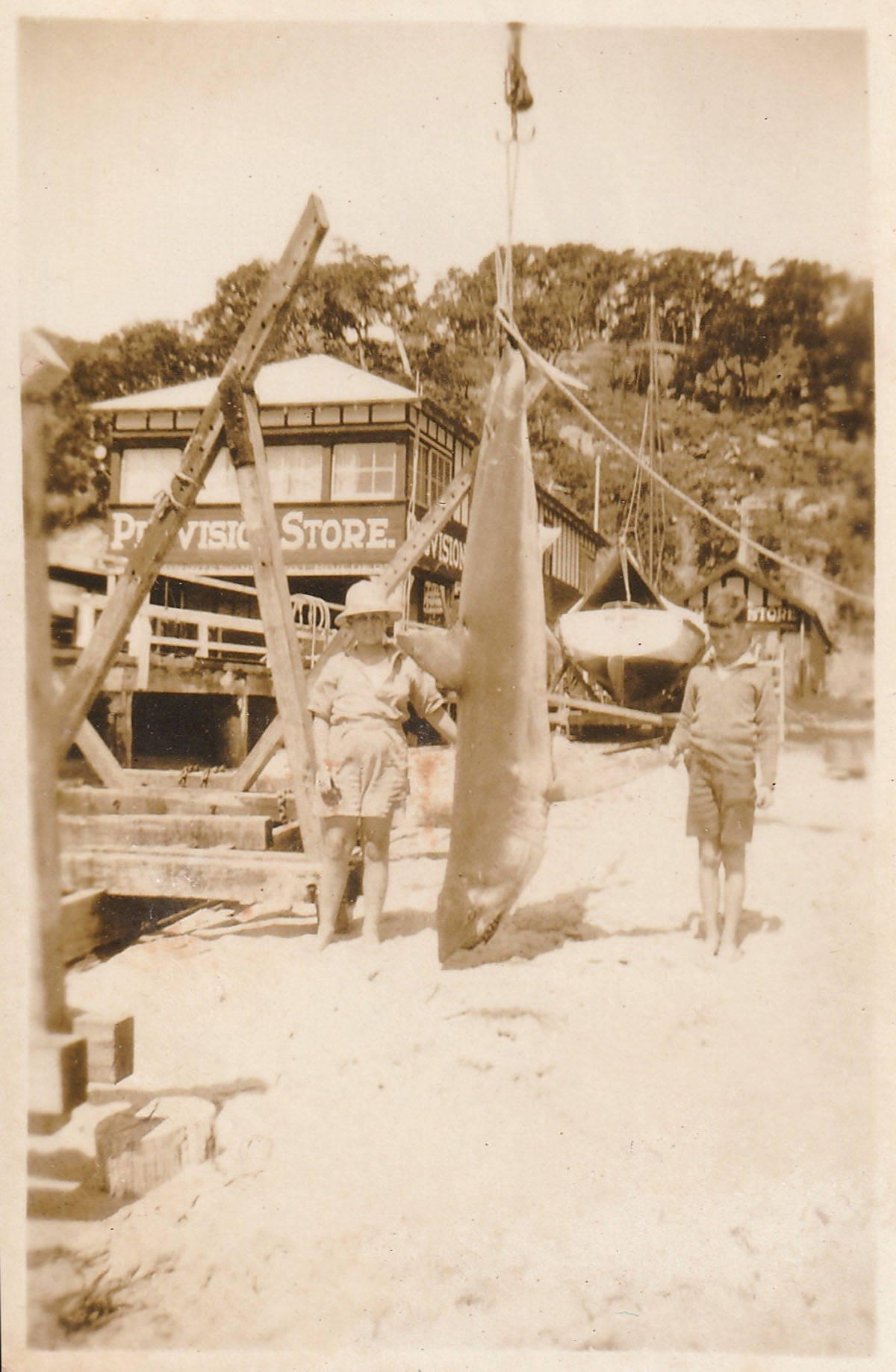 SHARKS AND OTHER DANGERS
Several sharks have been spotted in Pittwater during the last week so please be careful in the water. There is also a lot of debris from the storm still floating in various parts, including large logs, A container was even washed up on one of the beaches.
(Goddards 1934 photo courtesy CL Geddes family album)
AVALON BEACH HISTORICAL SOCIETY
"Gows, Gonsalves, Goddards and Goldthorpe & Smith" History of the two boatsheds, wharves and slips in Palm Beach and Sand Point Tuesday 10 March 8pm at Avalon Beach Bowling Club. All welcome. www.abhs.org.au gcsearl@bigpond.com
BIG IDEAS FORUM
"Why Art Matters: How Creativity Makes a Difference" Wednesday 4 March 6.30pm at Glen Street Theatre ($10 pp Book NBC website) The Big Ideas forum is about engaging the community in a robust exchange of ideas. Big Ideas brings major issues to a local audience, combining speakers with national profile with those with local expertise. In March 2020, discussion will focus on how art and creativity are important for our communities socially, economically and culturally. How can art help alleviate the effects of poverty and disadvantage? Why is creativity more important than ever as we face the challenges of the 2020s? Why should investing in the arts be a priority? Add your voice to a panel discussion and Q&A with: Dr Jonathon Welch AM, award-winning performer and founding director of Choir of Hard Knocks Wendy Sharpe, Archibald Prize winning artist Djon Mundine, art historian, curator and activist Dr Gaia Grant, lecturer and author of 'Who Killed Creativity'
SUBMISSIONS
PBWBA have lodged two submissions to Northern Beaches Council so far this year:
'Open Spaces and Recreations Strategy' and 'Avalon Place Town Planning Proposals' which will be available on our website.
LIEUTENANT COLONEL DOUGLAS MARKS PAVILION
On 25 January the Pavilion at Palm Beach was named in honour of Lt. Colonel Douglas Marks, DSO, MC and the plaque unveiled by Jason Falinski, MP for Mackellar in a moving ceremony at the beach.
Lt. Colonel Marks, aged 24, who survived many brutal battles of the First World War in France and Belgium, jumped into the water on 25 January 1920 in an attempt to save Johanna Rogers who was struggling in the surf. Tragically, both of them drowned and the impact of this event led to the creation of the Palm Beach Surf Life Saving Club which continues strongly one hundred years later.
The plaque attached to the Pavilion stands as a reminder of this heroic act.

The Palm Beach and Whale Beach Association (then called The Palm Beach Progress Association) funded the first lifesavers in Palm Beach during the time the Palm Beach Surf Life Saving Club was being set up.
HAVE YOUR SAY
Road Safety Strategy. The Council has issued a draft of its proposed Road Safety Strategy with responses due by 1 March. The two principal components are significantly increased education of children and young people and a proposal to work with the NSW Department of Transport to introduce 40 kmh zones in all high pedestrian activity areas. The suggestion has been made to PBWBA that we should seek the introduction of a 40 kmh zone on Barrenjoey Road from Surf Road to Ocean Road. The other possibility would be a 40kmh zone from Iluka Road (S) to Beach Road.
DATES FOR THE DIARY
March Coffee Morning Friday 27th March 10.30 am at the Pacific Club.
Phil Devon, NBC Manager Transport Network, will be in attendance to answer your questions, listen to your suggestions and comments and discuss traffic and transport issues in Palm Beach and Whale Beach. Please phone Richard West 0407 942 941 or email arwest@bigpond.net.au by 20th March with any comments, suggestions or questions about traffic, parking and roads you would like to raise at the meeting.
Next Committee Meeting Monday 9 March 7 pm at Pacific Club.