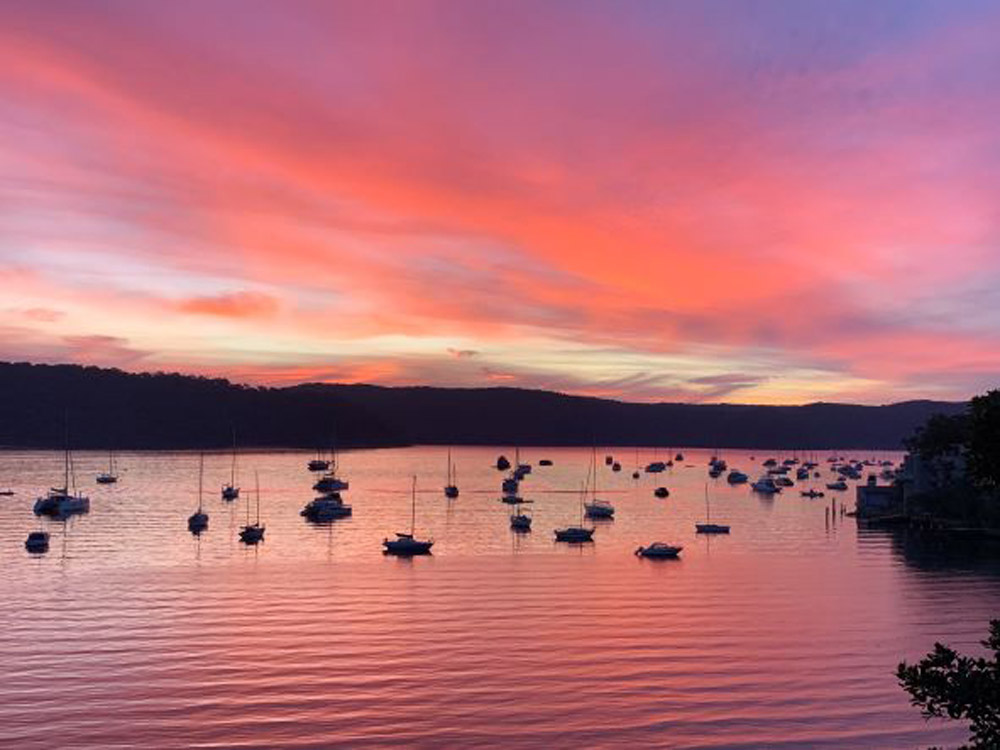 Crisp, sunny Autumn days have arrived and with it some magnificent sunsets.
The Surf Life Saving 21/22 patrol season has now ended. Thank you to all at North Palm Beach, Palm Beach and Whale Beach SLSCs for keeping the Community safe at the beach.
Congratulations to the Palm Beach SLSC who recently celebrated 100 seasons of service.

OVERDEVELOPMENT
At the last Council Meeting on 26th April Cr Korzy, representing Pittwater Ward, proposed the following:
NOTICE OF MOTION NO 12/2022 – REPORT ON ENVIRONMENTAL PROTECTION AND DEVELOPMENT APPLICATION PROCESSING IN PITTWATER WARD
"That Councillors be provided with a special interest briefing, with a written report within 2 months on: 1. The process Council uses for assessing development applications and applying conditions of consent on sites with environmental/conservation (E4/C4) zonings in the former Pittwater LGA, including reference to excavation, tree removal/retention, protection of endangered ecological communities, hard surface to landscape ratios, and other relevant matters. 2. How compliance with conditions of consent and relevant legislation is assessed and enforced in these zones. 3. Options for protecting the environment in E4/C4 zones as part of the new LEP and DCP for the Northern Beaches".
The motion was passed – but disappointingly it was not unanimous.
PBWBA and Clareville and Bilgola Plateau Residents Assoc (CAPBRA) presented 3 minute statements of support read at the beginning of the Meeting.
Our statement follows –
For more than 100 years The Palm Beach & Whale Beach Association (PBWBA) has been advocating for the preservation and protection of the unique environment and residential amenity of Palm Beach and Whale Beach and we strongly support this motion proposed by Cr Korzy.
In a recent survey of our 450 members the number one concern was over-development. At our regular meetings residents constantly express their shock, anger and dismay about approved massive developments which appear to breach many controls .
Our Community relies on the legislated planning instruments and Northern Beaches Council (NBC) to ensure that DAs comply with the current Pittwater LEP2014 and DCPs.
NBC states its goal is to protect and enhance our natural and developed environment and to preserve our quality of life for future generations and that they do this by using appropriate development and planning controls. 
We are mindful of the statements above and guided by the following clearly stated principles –
The LEP is a State Government document agreed to by the Council on behalf of the ratepayers/residents/business owners and other interested parties of (then) Pittwater, now Northern Beaches. It is part of the law of the State and needs to be treated as such i.e. enforced.
The DCP is a policy statement of the Council, outlining the detailed requirements for development in the LGA. It is legally binding.
Importantly, the DCP contains the Locality Statements which require the Council to protect the agreed present and future character and to ensure that all developments are in accordance with the agreed character. 
Why is it then when you drive or walk around Palm Beach and Whale Beach, which is mostly zoned E4, Environmental Living, we observe the following –
Ocean Road – massive excavations (known by locals as "The Quarries") taking place right on the beachfront. Not a tree left in site. Ancient boulders and rock formations obliterated.
Pittwater Park precinct – where there are proposals for major commercial developments involving shop top housing. The proposed bulk and scale is jarring, overbearing and unsympathetic in the existing streetscape context. They are out of character with the seaside village feel.
Whale Beach Rd – multiple dwellings under construction. Usually of several storeys, of great height, bulk & scale and appear to breach many other controls including site coverage and landscaping.
Their construction is causing major problems for residents with constant road closures, pedestrian, parking and traffic flow problems, dust and noise pollution due to constant drilling and rock breaking. Huge cranes are being installed with no apparent regulation or time limitation.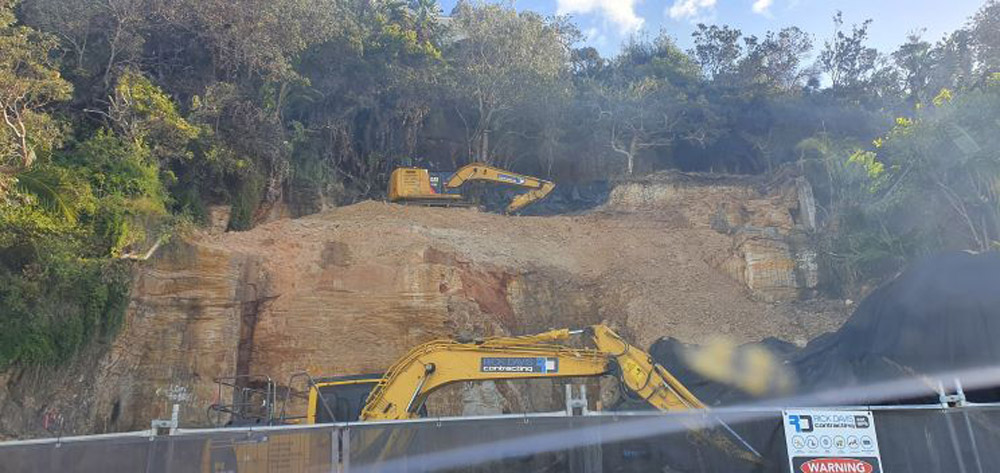 Hardly low impact and not of a scale integrated with the landform and landscape nor sitting lightly on the land which is required in E4 zoning!
We note with concern that many DAs seek to utilise Section 4.6 of the Planning Act to apply for and justify a breach of controls.
The purpose of Section 4.6 is to provide an appropriate degree of flexibility. The requirement for flexibility does not mean that it should be used to override the development standards of the LEP or DCP.
We believe section 4.6 should be used only in exceptional circumstances or for very minor breaches.
The Community is concerned that their views, expressed in submissions and feedback, are generally not taken into account by the NBC planning department or The Northern Beaches Planning Panel.
Notification of DAs to the community & immediate neighbours is haphazard.
The planning controls we are guided by are simply and clearly stated in the PLEP 2014 and DCP21.
All we ask is that these controls are adhered to by Council and that the protection of the environment and the character and amenity of Palm Beach & Whale Beach be preserved.

NBC DELIVERY PROGRAMME 2022-2026 "Have Your Say".
Submissions close 29th May
Council's delivery program sets out the work to be undertaken over the next four years to address community priorities in the Community Strategic Plan (CSP).
There is a great deal of information including 2 videos and a local snapshot on the NBC "Have Your Say" section of the Council website. Click this link. NBC Delivery Programme 2022-2026. 
Council will be holding information session on the Community Strategic Plan, Delivery Program and Resourcing Strategy. Register for Information Session NBC
Palm Beach & Whale Beach perspective & highlights.
These are in the order in which they were encountered in the document and there is no attempt to rank them by importance or urgency.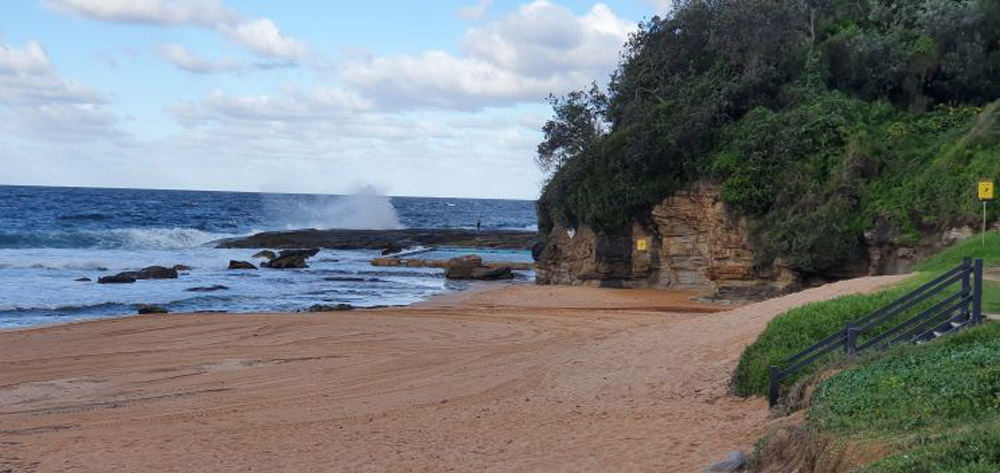 Whale Beach pool will undergo major renewal
This is very welcome news!
Pleasingly, the stairs located between 221 and 223 Whale Beach Rd (just south of Moby's) down to The Strand will be replaced.
LEP/DCP work on these plans is expected to stretch out to 2024/2025.
The same applies to the Mona Vale, Avalon and Manly Town Plans
Over $11 million is being spent in capital expenditure over the five years on parks and reserves but nothing could be found for Governor Phillip Park.
Similarly a total of over $104 million is being expended on materials and services for the maintenance and upkeep of the area's parks and reserves this may include the "normal" maintenance and upkeep of Governor Phillip Park -the actual allocation of this money is not specified – but surely some of this could be used to repair the damage that Governor Phillip Park has suffered through over-use and the failure to keep up to date with the necessary maintenance.
A sum of $1.679 million has been allocated in 2023/2024 and $800,000 for the implementation of the Avalon Place Plan.
The new footpaths total expenditure in 2022/2023 is $2.636 million the cost of the Barrenjoey Road path in Careel Bay is not separately shown. At the same time, the Council is proposing to spend $5.2 million on new cycleways.
The total to be spent in 2023/2024 on footpath renewal across the whole LGA is $1.5 million.
The total expenditure on road re-sheeting in 2023/2024 is $7.6 million and the total over the 5 years of the Delivery Program is $33 million.
The customer service centre in Avalon will continue to operate.
IPART had set the maximum rate increase for all councils in 2023/2024 at 0.7%, reflecting the low inflation rate environment from 2019 to the beginning of this year. Amidst widespread protests that this would leave councils critically short of income, the Government introduced an emergency adjustment to allow councils to seek a one-off higher increase. NBC has applied for an increase of 2.4%, the same as 2021/2022 and estimates that sticking to 0.7% would cost it $3 million in revenue.
Wakehurst Parkway the Delivery Program provides for the Council to "investigate and implement viable options to reduce minor flooding" over the next four years.
Drilling down deeper into the 166 page document –
Draft Operational Plan and Budget 2022/23 – Palm Beach and Whale Beach
Local projects:
396m of road resheeting in Palm Beach – Currawong Avenue 226m and Waratah Road & Beach Road 170m
740m of new footpath at Barrenjoey Road, North Avalon
Replacing the stairs located south of Moby Dicks between 221 and 223 Whale Beach Road down to the Strand, Whale Beach
Planning for major renewal of Whale Beach rockpool.
We have not yet reviewed the Draft Fees & Charges 2022/23. Submissions close 29th May. Draft Fees and Charges

SNAPPERMAN SEAWALL REPAIR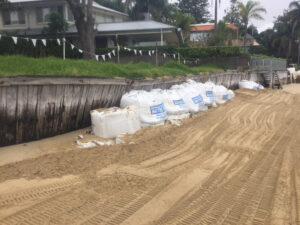 At the last coffee meeting a question was raised about the sandbags being deflated and washed out at the seawall repair site on Snapperman Beach. The sandbags have been replenished. Council is planning to tender the works in May and are aiming to commence the reconstruction in July. The construction period is estimated to be 7 weeks all going to plan.
MEETING WITH RAY BROWNLEE – CEO OF NORTHERN BEACHES COUNCIL
The President and three Committee members recently met with Ray Brownlee to discuss Palm Beach and Whale Beach matters. Among many things topics included Governor Phillip Park, the Council's draft delivery document, the stormwater drains at Kiddies Corner, the ocean pools, the walkway from Whale Beach to Palm Beach, The Avalon Place Plan, hoons, overdevelopment and the new Local Environment Plan and Development Control Plan which are currently being prepared by Council.

CRANES
Questions about the use of cranes for property development in both Palm Beach and Whale Beach have been asked by residents. We asked NBC for clarification on regulations.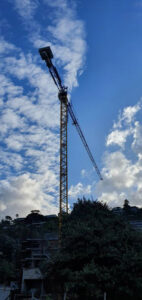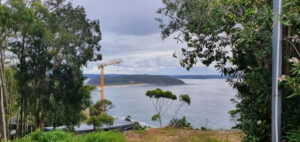 Whale Beach & Palm Beach
"There is currently no approval process, but an application is required and must show minimum $20m public liability insurance and to nominate a height of swing above the Australian height datum to ensure there is no clash with any structure or adjoining crane in the area, where there are multiple cranes working together. The crane is technically a piece of building plant and not subject to the usual requirements of the EP&A Act. 
Where a crane swings over another property it is a civil matter between the Principal Certifying Authority and property owners.  
From a community impact perspective, a tower crane whilst not ideal has less of an impact on the road network – generally where the road is narrow, and the use of a mobile crane would require a full closure, a tower crane is a sensible option".

CROWN LAND FUNDING
The NSW Govt has reserved $17 million to upgrade and maintain facilities in Crown Land Reserves across NSW. Governor Phillip Park is a Crown Reserve and Northern Beaches Council is the reserve manager. Minister Kevin Anderson has stated that Crown land plays a significant role within the Community and the Govt is committed to providing the best facilities possible. Projects which benefit the Community socially, environmentally, culturally or economically can will be considered. We will be urging Council to apply for funding for Governor Phillip Park to upgrade facilities, for weed control, repair to roads and pathways and repairs and maintenance of infrastructure.

The playground Gov Phillip Park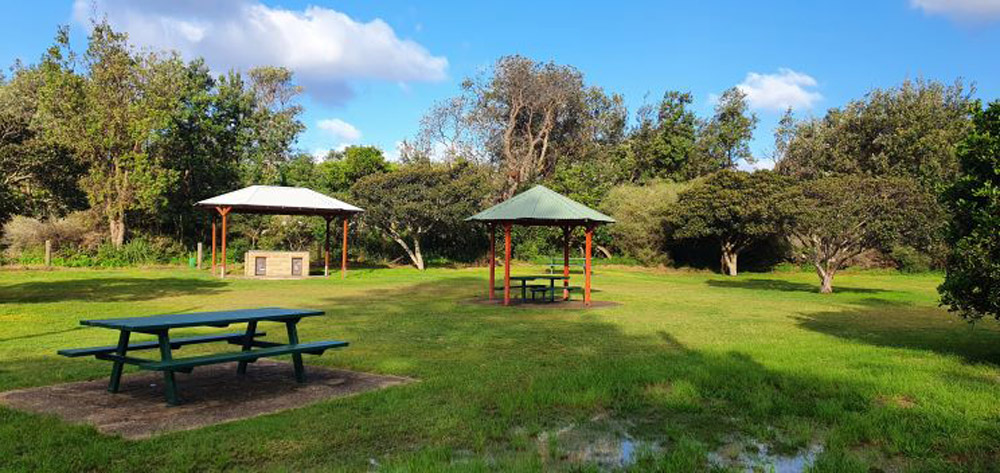 Popular picnic shelters & BBQ facilities in GPP

AVALON VILLAGE
Rob Stokes, Member for Pittwater and Minister for Active Transport, has announced grant funding of $500 000 for Northern Beaches Council to fund a trial shared space pedestrian and vehicle zone at the northern end of Old Barrenjoey Rd (between Avalon Pde and the Woolworths car park). The trial shared space will enable greater pedestrian movement through expanded footpaths, new landscaping and additional seating areas. There will be no northbound traffic and southbound traffic will be one lane only and 10km speed limit.

MEET YOUR WARD COUNCILLORS "Town Hall Meeting" Avalon
Within Pittwater there are ideas, issues, concerns, and opinions and your Pittwater Ward Councillors – Cr Korzy, Cr Amon and Cr Gencher, want to hear directly from you.
Everyone has the opportunity to:
obtain, share and discuss local issues to Pittwater
promote a close association between the Pittwater Ward Councillors and the community
actively participate in planning and decision making relevant to their area
inform the Councillors, and provide input into areas of concern
assist the Councillors canvas residents' and other local views on issues and to maintain open and accountable local government
encourage positive and respectful interaction between all community members & groups.
The second "Meet Your NBC Councillors Town Hall Meeting" was held at the end of April in Avalon. There was a larger attendance than the first meeting, estimated at 30 40 people who once again, had the opportunity to question and pass comment to their three councillors: Rory Amon, Miranda Korzy and Michael Gencher. Also in attendance was Cr Kristyn Glanville (Curl Curl Ward) who is a planning and environmental lawyer.
It was great to see a number of Palm Beach residents in attendance.
Major items raised were:
Development Applications the process and how the "community" could not understand, nor accept, the current level of variations seemly being approved or not fought. Cr Glanville gave the meeting more understanding of the situation along with examples of what some other councils are doing.
Dogs off Leash supporters from both sides. The councillors gave an update on where the process was at.
5G towers the meeting asked the councillors for help with this.
The next meeting will be held on Thursday May 26th at the Terrey Hills Community Centre
If you would like to attend, please register at Meet Your Councillors or ph 1300 434 434

VETERANS OCEAN THERAPY – PALM BEACH RSL
Palm Beach RSL Sub-Branch has approved the formation of Veterans Ocean Therapy with the aim of improving the physical and mental health of Veterans.
The base will be set up at 29 Iluka Rd, a house owned by the RSL, which will store kayaks and paddle boards with access to Pittwater just across the road.
A regular paddle club is planned for Veterans which will include a BBQ breakfast at the Club afterwards.
Veterans Ocean Therapy will be looking for assistance or donations of watercraft and gear.
Any veterans interested in joining please contact Dave Good at dave@good.id.au or follow the
Facebook page: Palm-Beach-NSW-RSL-Veterans-Ocean-Therapy

PALM BEACH ROAD PARKING RESTRICTIONS
Council has received concerns from local residents regarding the narrow road width and parking problems on Palm Beach Road.
Council has undertaken a review of the location and issues and consulted on a proposal to install 'No Parking' restrictions on the eastern side at two sections on Palm Beach Road. The 'No Parking' restrictions will be located between the driveway of property No.20 to the driveway of No.24 and the driveway of property No.38 to the driveway of No.50. Parking will be not permitted in this area on Saturday, Sunday and Public Holidays, when traffic volumes is higher.
THE BIBLE GARDEN 6a Mitchell Rd Palm Beach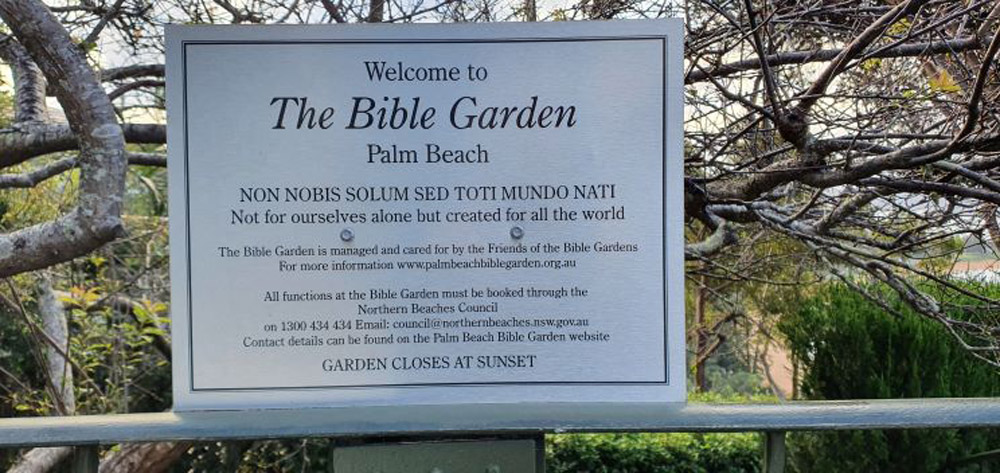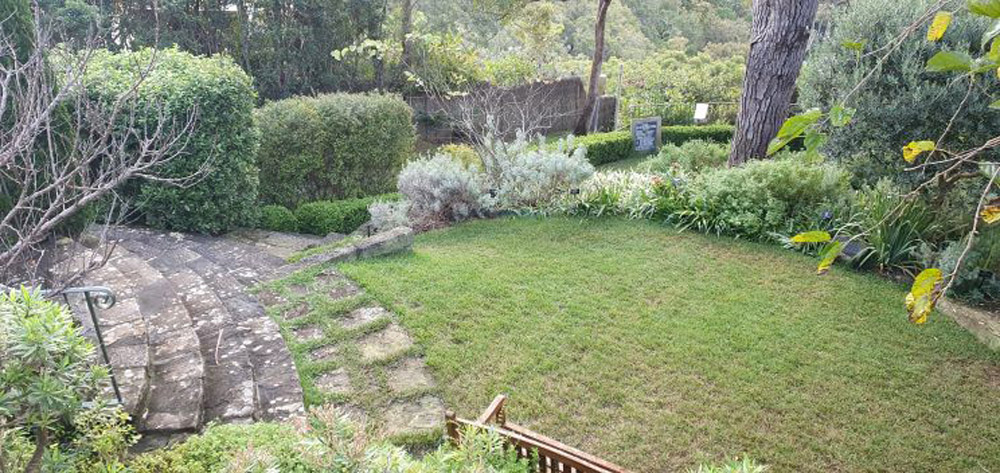 Despite the rain and wild weather this summer The Bible Garden is looking luxuriant and colourful. Did you know that approximately 18 000 people visit it each year? The Garden is a very popular venue for weddings (about 20 per year) and must be booked via Council's Open Space Booking Team
After 11 years of wear and tear the lawns have been replaced and restored with Bible Garden funds.
Further work is planned using funds which have been accumulated by Council from the hire of the Gardens – approx $31 000. This work will include works to the lower staircase and path on the western side and the establishment of two new small gardens.
"Friends of the Bible Garden" maintain the Garden and they are always ready to welcome active volunteers and supporters. The Bible Garden

WAKEHURST PARKWAY FLOOD MITIGATION
After the deluge of rain we received over summer Wakehurst Parkway was closed to traffic on many occasions. As this is the major access to the Northern Beaches Hospital from Pittwater Ward closure of the road causes anxiety and frustration in the Community.
Planning will now move forward for work towards limited floodproofing of Wakehurst Parkway following a majority vote at the March council meeting.
Immediate progress on detailed design and environmental assessments for reducing flooding at the Oxford Falls and Oxford Falls Road west sites will now go ahead as well as a technical review of the options at The Bends site, to see if the environmental impact of the work there could be reduced.

POTHOLES
The severe wet weather has caused extensive damage and potholes to roads across the LGA.
Potholes are repaired by different teams depending on their location. If you see damage to main roads they need to be reported to Transport for NSW.
These roads include: Beach Road, Ocean Road and Barrenjoey Road.
For the smaller, local roads Council is responsible for their repair. Please let NBC know here at Report a pothole and they will make sure it is on the list.
LT COL DOUGLAS MARKS SIGN
Black Rock, Ocean Road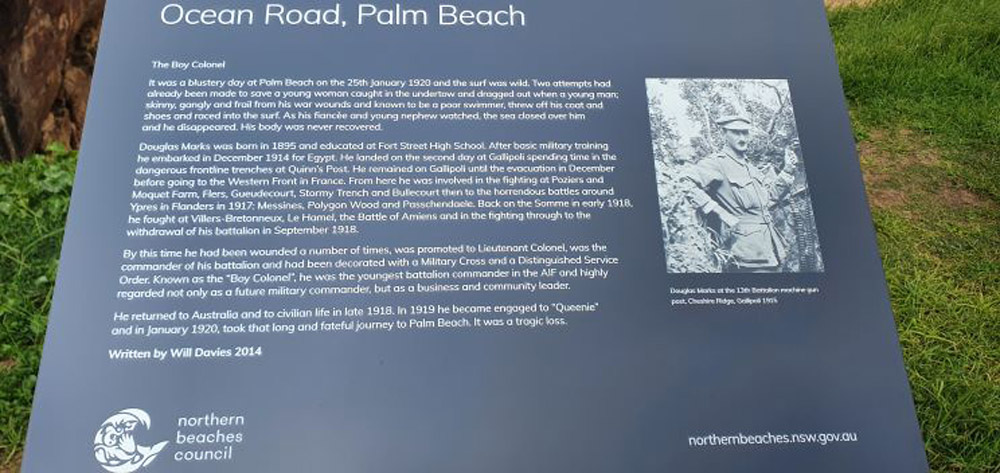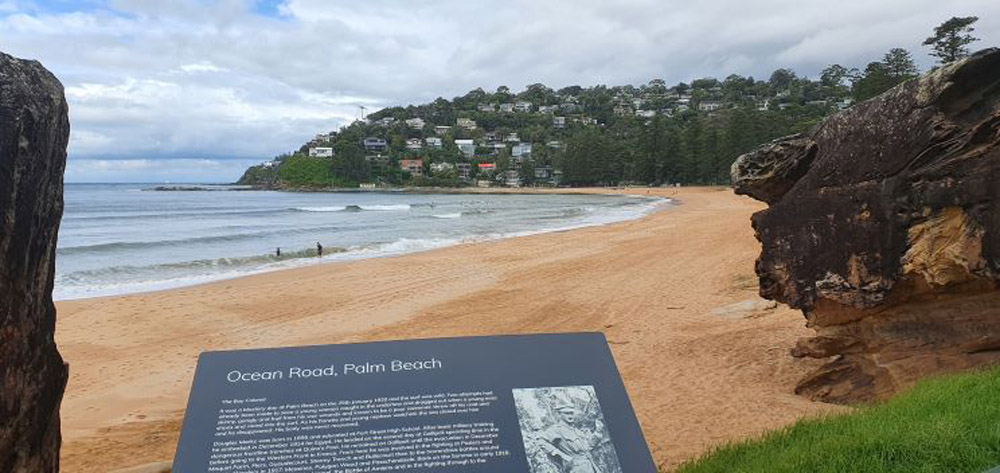 At our request, Council has recently replaced the faded, illegible Lt Col Douglas Marks sign at Black Rock at the beach
Lt Col Marks drowned whilst attempting to save a swimmer who also drowned near this spot in 1923.
FIRE AND RESCUE NSW OPEN DAY
Fire and Rescue NSW are holding an Open Day on Saturday, 14 May. Head to Avalon Fire Station between 10.00am and 2.00pm with (or without) kids to see fire trucks and firefighting equipment and get information about home fire safety. Avalon Fire Station is at 689 Old Barrenjoey Road, Avalon Beach.
MIDGET FARRELLY STATUE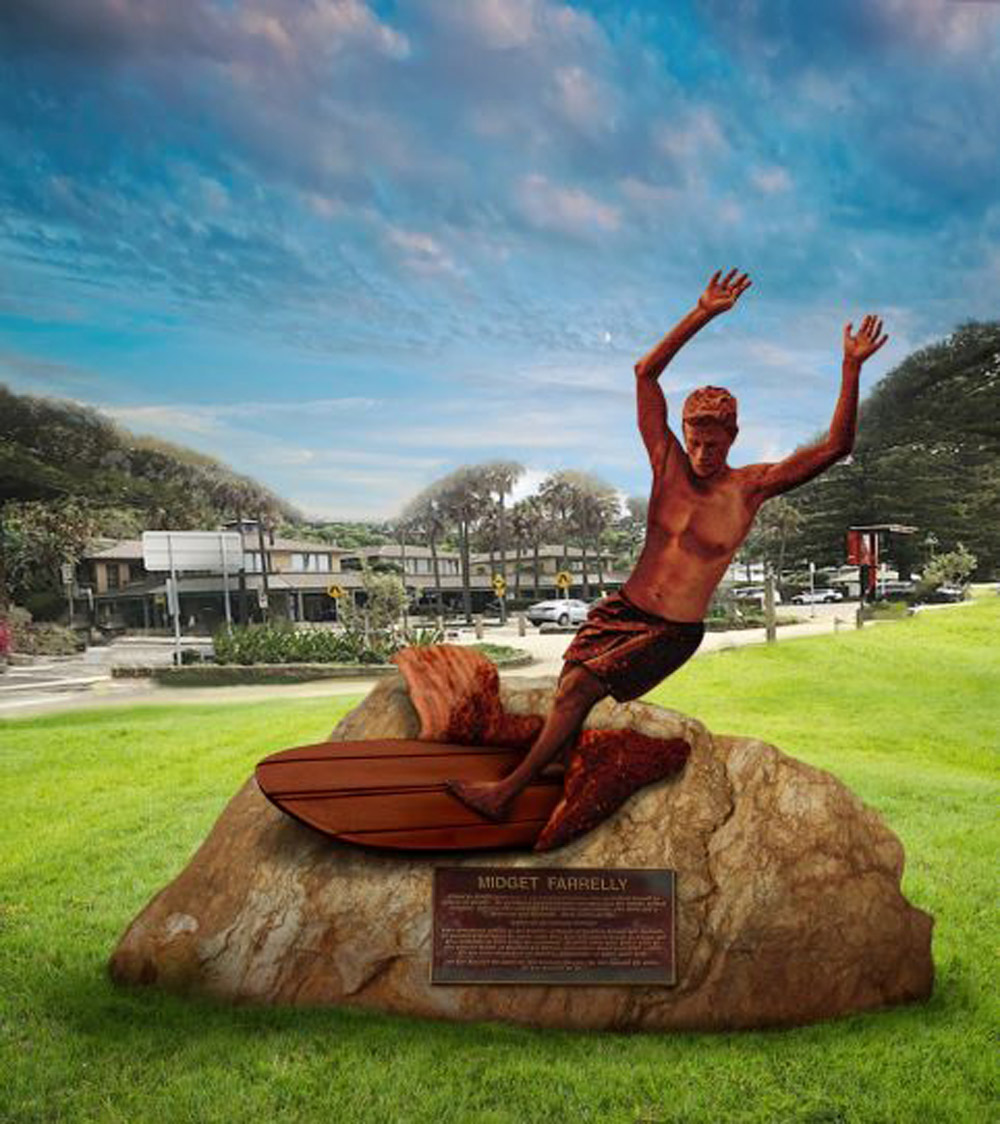 Artist's impression – classic Midget surfing style
Midget Farrelly was one of the best and most respected surfers in the 60s. He was the first male world surfing champion – and a local.
The Midget Farrelly Recognition Committee is working to raise $160 000 to donate to NBC's Public Art Working Group program to have a bronze work of Midget Farrelly created by a local artist. Northern Beaches Council has included this proposed work on its official list of future artworks. The Committee would like to have the work erected on the beach reserve opposite opposite 2108 Cafe where the buses terminate. PBWBA is supportive of this project.
Enquiries: midgetrecognition @gmail.com
Link to the GoFundMe page
https://www.gofundme.com/f/midget-farrelly-recognition

LIVING OCEAN – CAREEL BAY CREEK & MANGROVES
Living Ocean is a not for profit association which promotes awareness of human impact on the ocean through research, education, creative activation and support of others who sustain ocean health and community understanding of coastal marine ecosystems in Australia.
Living Ocean are looking for volunteers willing to take part in one of the largest citizen science projects ever mounted on the Northern Beaches. This involves conducting the first detailed study of the Careel marine environment which is the most significant area of estuarine wetlands on the Northern Beaches. A reruiting forum will be held in Avalon sometime in May. For more information click the link Living Ocean or phone 0410 374 333
BUSHCARE VOLUNTEERS
Bushcare is all about community volunteers working with Council to conserve and rehabilitate publicly owned natural bushland. There are over 350 volunteers who work at over 50 different sites throughout the Northern Beaches.
Most Bushcare groups work at set times through the year, for two or three hours each month.
NORMA RESERVE adjacent to 53 Norma Rd Palm Beach, is one area. Volunteers meet there weekly on Fridays.
No experience is needed. Tools, training and guidance in bush regeneration techniques, and morning or afternoon tea are provided!
For information and to volunteer click Bushcare Volunteers
AVALON LIBRARY
Volunteers needed weekly or fortnightly, computer skills required together with a love of books and people!
Drop in to the Library and ask for Jane or email avalonlibrary@ozemail.com.au
BORROW BOX APP (smartphone)
Download the app to your smartphone then "Borrow" and listen to audio books or read eBooks. All you need is an NBC library card to join. FREE
PITTWATER NATURAL HERITAGE ASSOCIATION (PNHA)
SUNDAY NATURE WALK: A bushwalk through 4 Newport bushland reserves "From the Crown to the Sea"'
Sunday June 30th 9.30am -11.45am email pnhainfo@gmail.com to book.
Meet at Porter Reserve. Moderate fitness needed. Some steep tracks. Not suitable for young children.
AVALON BEACH CENTENARY EVENTS
Save the dates for these upcoming events.
• AVALON BEACH HISTORICAL SOCIETY mega photo exhibition in the Avalon Recreation Centre over the long weekend 11th to 13th June
• CENTENARY ART EXHIBITION Indigenous Theme 17th June in the Avalon Art Gallery in the Cinema Arcade
• SOLSTICE CELEBRATION
Sat 18th June in Dunbar Park with art activities, dance, music, performance and an evening concert at Avalon Beach RSL featuring local bands.
CCNB (Community Care Northern Beaches) ph 1300 002 262 & MWP CARE
(Manly Warringah Pittwater) ph 9913 3244 are looking for volunteers for all sorts of roles.
VINNIES' CHARITY DROP-OFF
Sat 28th May at Rowland Reserve Bayview 10am – 3pm
Donate quality, pre-loved clothing, accessories, sleeping bags and blankets packed in bags or boxes and Vinnies staff will collect from your vehicle.
E-WASTE COLLECTION
Dell Technologies are partnering with TechCollect to host a free public e-waste collection event at 15 Aquatic Drive, Frenchs Forest, from 8.30am Saturday, 14 May.
E-waste can also be left at Kimbriki Tip. Free.
SYDNEY LIVING MUSEUMS
MUSEUM OF SYDNEY, HYDE PARK BARRACKS, JUSTICE & POLICE MUSEUM
A bit further afield but well worth a visit! Free admission on weekends until the end of June.

REMINDER TO USE YOUR VOUCHERS!
DINE & DISCOVER x 3 VOUCHERS @ $25 expire 30 June 22
STAY NSW VOUCHER @ $50 expires 9 Oct 22
BERYL DRIVER'S CHARITY FUNDRAISER "ROCKIN' FOR VARIETY"
Saturday 28th May 7.30pm at Club Palm beach $25
A rock & roll classics concert to raise funds for Variety the children's charity.
Call Beryl to book 0401 478 897
… and for something different for the young & young at heart …
SKATE UNDER THE STARS ROLLER DISCO
Sat 4th June
An all ages event Try Booking – Roller disco Avalon
at Avalon netball/basketball courts beside Barrenjoey Rd
PALM BEACH MARKETS
Governor Phillip Park Sunday 29th May 9am – 3pm


Next Coffee Meeting Thursday 26th May at The Pacific Club 10.30am BYO coffee/tea.

Next Committee Meeting Monday 20th June (note change of date due to Queen's Birthday weekend). All members welcome to attend.

We look forward to seeing you soon.

Please don't hesitate to contact us with your concerns or feedback.

Prof Richard West
0407 942 941
PBWBA contacts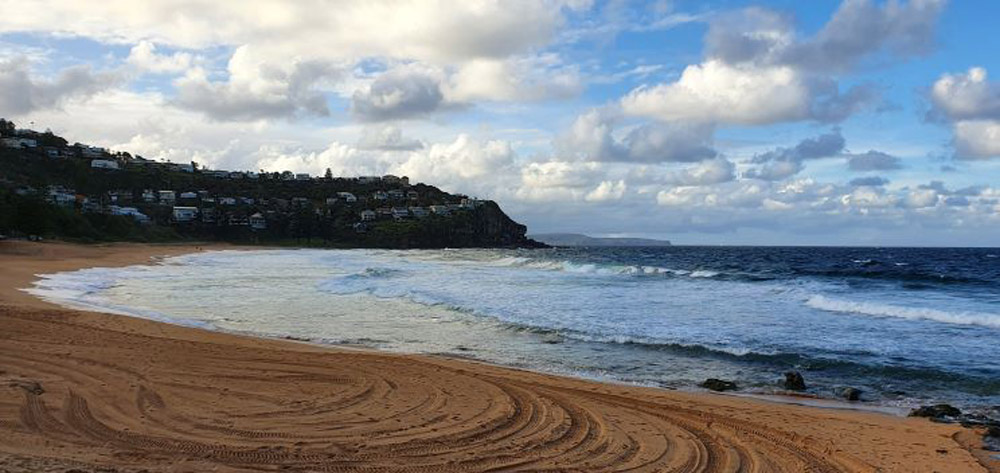 A quiet Autumn afternoon at Whale Beach