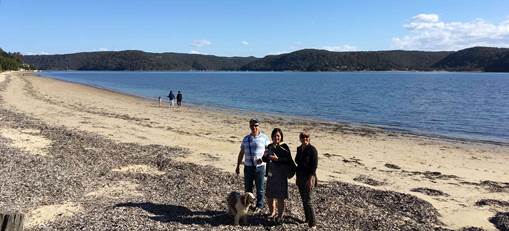 Council is exhibiting a proposal to create an exciting new opportunity for local families with dogs to enjoy outdoor activities together. The proposed 12-month trial involves a specified section of foreshore, with limited hours of operation.
Background
In May 2003, when Council resolved to discontinue use of the Careel Bay foreshore as a dog swimming area, a search commenced for alternate dog swimming locations north of Bilgola Bends. This was in recognition of the importance to local families of having somewhere to enjoy foreshore access with their dog. Over the years, several preferred areas have been identified, including Station Beach. With a growing population, and an increasing number of families with dogs, the need to make provision for off-leash recreation has increased over the years since Careel Bay was closed.
Council has developed a trial arrangement that allows families with dogs to share a section of Station Beach at specified times of day. The usage remains unchanged through the popular part of the day, but mornings and late afternoons would see the space also opened-up to families with dogs. In 2009 Council commissioned a detailed Review of Environmental Factors and Biodiversity Assessment (REF) which identified no environmental barriers to the trial proceeding. At the time, questions were raised about potential impacts on the nearby seagrass, but Council has since dealt with these to the satisfaction of NSW DPI – Fisheries.
Social benefits of proposed activation of open space
Making public space available for recreational activity on the Northern Beaches remains a challenge with our hilly, bushland setting. But with 80km of foreshore, we do have opportunity to activate some of this space in a way that promotes increased recreational use. Council's Community Strategic Plan (CSP) acknowledges the social benefit of connecting with the community through walking the dog and enjoying the outdoors. The CSP also urges a reduction in our dependence on cars for routine activities. Opening Station Beach to families with dogs is expected to encourage better use of local space by locals, so that there is less need to be making the car trip to Bayview dog swimming area.
Read the PBWBA Submission here:
Station Beach letter of support
Read the Review of Environmental Factors here:
REF Station Beach NGH Environmental
See the location map and proposed hours of operation here:
Station_Beach_Concept_Plan_151118 or click on the image to enlarge
To make a submission, please go to Council's "Your Say" Page.