President Richard West – Report of Mona Vale Hospital Forum
held Wednesday 18 July 2018
There was standing room only at the meeting at the Mona Vale Community Hall when President Richard West addressed the meeting about the Northern Beaches Hospital at Frenchs Forest. An estimated 400 people attended.
Northern Beaches Hospital – Frenchs Forest
There is concern that it is a private/public contract to be run by Healthscope. It is a level 5 hospital. Patients with major trauma, stokes, those requiring cardiac surgery will have to go to the level 6 Royal North Shore Hospital (RNSH). This will delay treatment for these conditions. There is a golden hour for major trauma and patients with strokes who require thrombolysis treatment to dissolve brain blood clots and must be assessed and treated within 3 hours to obtain the best results.
Mona Vale Hospital
The preferred option of the meeting was for Mona Vale Hospital to remain a level 3 Hospital and remain in public hands.
At present it is intended that its role is to provide complementary services for the Northern Beaches Hospital. There will be an acute care centre, rehabilitation, live in palliative care and geriatric care at Mona Vale plus an upgraded helicopter service.
The proposed Acute Care Centre must be staffed by trained emergency doctors and nurses so they can resuscitate critically ill patients who cannot reach the Northern Beaches Hospital.
Rob Stokes has announced a $150 million new purpose-built ambulance station at Mona Vale Hospital. However there needs to be a review of ambulance services in Pittwater. The Avalon ambulance station needs to be a fully operational station. The ambulances must remain in Pittwater and not go roving all over the city.
According to Google maps the travel distance from Palm Beach to Mona Vale Hospital is 14 kms wth travel time of 22 minutes. From Palm Beach to the Northern Beaches Hospital at Frenchs Forest the distance is 28 kms and the travel time is 42 minutes – without traffic and flooding! This is equivalent to travelling from Beecroft to Frenchs Forest.
Palm Beach Landscaping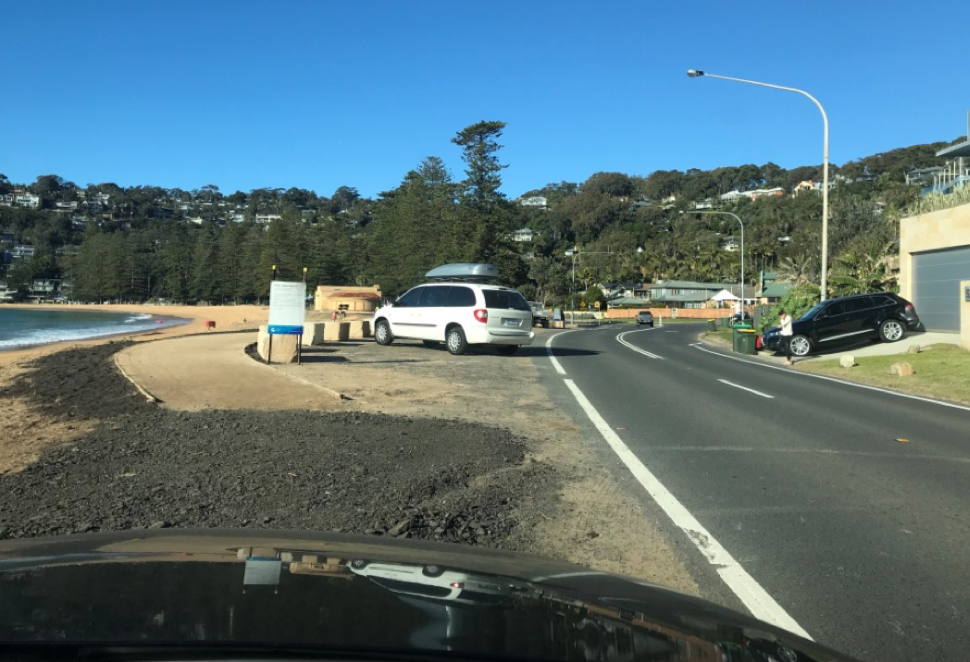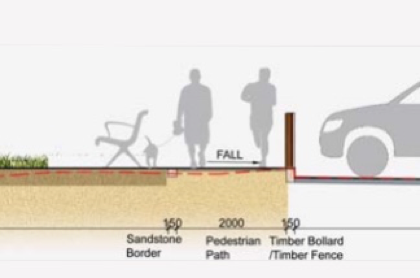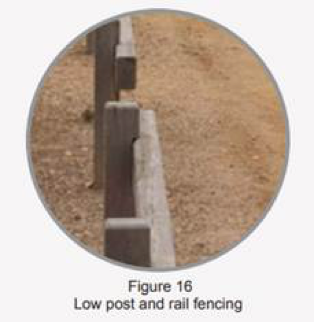 The project is progressing well. Richard West met with Russell Jenkins from NBC who is in charge of the project and walked the beach last week. The Council have the budget to complete most of the project, with the exception of Kiddies Corner, during this financial year.
The next phase will be at the northern end to Governor Phillip Park.
PBWBA has contacted the council suggesting the large sand stone blocks (see photo) which have been placed north of the Pavillion be moved closer to the new path to provide more room for safe parking.
The original plans showed low post and rail.
The council has offered to the meet with PBWBA next week so we can discuss the options. A mixture of blocks & post and rail, blocks only, post and rail only?
Avalon Place Plan
Your association believes that the relaxed village atmosphere of Avalon Beach must be retained and maintained.
We urge our members to attend the Council pop-up sessions to express their views. If unable to attend submissions can be made online. There are two remaining sessions later in the week.
Fri 27 Jul 8am -11am (outside Avalon Woolworths)
Sat 28 Jul 1pm – 4pm (outside Avalon Woolworths)
Note: The Avalon NAB branch is closing in early August with Mona Vale branch the closest – another loss for Avalon Beach.
Meeting – Pittwater Community Alliance
Pittwater Forever has become Pittwater Community Alliance. (PCA).
It comprises 11 community groups with the Mona Vale Residents Group about to rejoin.
It is a good forum to discuss common issues affecting all of Pittwater. Meetings have been arranged later in the month with the member for Pittwater Rob Stokes and NBC Mayor Micheal Regan and a separate meeting with NBC Mayor Michael Regan and David Kerr, General Manager Planning, Place & Community to discuss planning issues.
B-Line Buses and services to Palm Beach
Letter from Robert Miesegaes
Project Director, Northern Beaches B-Line Program
"B-Line services are no longer proposed to extend to Newport and the construction of a roundabout at the corner of Neptune and Barrenjoey Roads will not proceed. We will continue to investigate opportunities to improve existing bus services north of Mona Vale to align with demand and customer travel patterns between the Northern Beaches, Lower North Shore and the Sydney CBD. Customers will be kept informed prior to any changes later this year. Work will continue along the corridor from Mona Vale to the Sydney CBD to manage traffic congestion, improve reliability of buses and support the new B-Line bus services. Thank you for your feedback to date throughout the development of the draft concept. Should you have any questions, please contact the Northern Beaches B-Line Project Team on 1800 048 751 or email projects@transport.nsw.gov.au"
- Robert Miesegaes
We need to insist that there is an express bus service to the city from Palm Beach in both peak and off peak times – eg E88 or an E90. Increase the L90 service. Expand Keoride hours.
There must be direct bus services to the Northern Beaches Hospital from Pittwater. It is proposed that passengers will have to change buses at Dee Why. The solution is obvious. Some of the present 199 buses which run from Palm Beach to Manly should be diverted along Wakehurst Parkway to travel to Manly via the Northern Beaches Hospital. This would also provide access from Manly. The 199 bus route has been regarded as a tourist route and it must be modified to serve the needs of the community. We challenge the Opal data which we are told indicates that there is little demand for bus services from Palm Beach residents.

We remind members about KEORIDE, the on-demand car service which operates to and from your home to the BLine hub at Mona Vale ($3.10/$1.55). You can book the service at www.keoride.com.au, by calling 1800 KEO RIDE (1800 536 7433), or by downloading the Keoride app on your smartphone. Find out more at www.keoride.com.au  Feedback from members has been very positive.
Coastal Walk Way Manly to Palm Beach – Whale Beach Road section
The community consultation period has finished. We are awaiting further discussion with the Council regarding the proposed plans.
Northern Beaches Council
The Northern Beaches Council has announced the appointment of Ray Brownlee to the position of Chief Executive Officer.
Mayor Michael Regan said Mr Brownlee boasts an impressive 30 year career in local government as an engineer, asset and contracts manager and most recently as General Manager of Randwick City Council since 2004
PBWBA welcomes the new CEO and is looking forward to working with him.
Development Applications
The Association reviews Palm Beach and Whale Beach DAs in conjunction with our Honorary Architect Bruce James. The main problems are over development of the sites due to bulk and scale, loss of views and privacy and multiple dwellings (some without adequate carparking).
Whale Beach Road
Council's decision to install parking restriction signs for northbound traffic in sections of Whale Beach Rd is currently being implemented ‑ the poles for the "No Parking" signs were erected last week.
Council links and draft Plans NBC website Community engagement "Have your Say"
"Northern Beaches Walking Plan" Many Community comments made about the lack of footpaths and safe access to bus stops on Barrenjoey Road. Council has increased the new footpath budget to $3 mill for 2018/19 as a result of the submissions to the Walking plan.
"Move – Northern Beaches Transport Discussion Paper" – parking, public transport, cycling, new ferry routes, walking etc
PBWBA sent in submissions for both.